Reviews
The New Girlfriend | Review
The Skin I Live In: Ozon's Exquisite New Exploration of Gender Subversion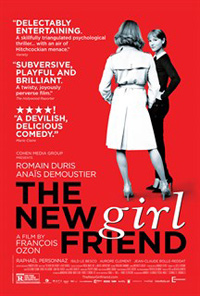 For his most playful and delightfully creepy film in years, Francois Ozon adapts crime writer Ruth Rendell's short story for his latest, The New Girlfriend. Rendell has long supplied a bevy of European filmmakers with some of their most memorable titles, including Claude Miller's Alias Betty (2001), Pedro Almodovar's Live Flesh (1997), and perhaps, most notably, Claude Chabrol's La Ceremonie (1994) and The Bridesmaid (2004). An excellent purveyor of strange and complicated relationships that often involve sublimated identities and tendencies that often lead to deadly scenarios, Rendell serves as an excellent template for Ozon with material that recalls the sexually transgressive explorations of his early career.
Claire (Anais Demoustier) and Laura (Isild Le Besco) have been inseparable friends since childhood. They've followed nearly the same life trajectory as well, both marrying handsome young men and what not. However, it seems Claire's never really grown closer to anyone else, not even her own husband (Raphael Personnaz). When Laura gets ill and dies soon after giving birth, Claire promises to watch over the newborn and Laura's husband, David (Romain Duris), a man with whom she's never grown close. But not long after Laura's death, Claire discovers a strange secret about David—he likes to dress in women's clothing and wishes to visit the outside world as his alternate identity, Virginia. At first balking at the ramifications, Claire soon finds herself attracted to Virginia, though in ways that she had never been able to admit to herself before. But repression remains tantamount to Claire's suburban idyll, which threatens the continuation of her new found relationship.
One would be remiss not to acknowledge how much The New Girlfriend reads like something from Almodovar in this vintage treatment of cross-dressing dynamics, recalling the Hitchcockian verve of Bad Education (2004). The film gives French star Romain Duris his most exciting role in years, a performer often languishing as of late in a variety of high profile romantic comedies, and much of the film's surprises are owed to his energetic and vibrant performance. Likewise, newcomer Anais Demoustier (who can also be seen in this year's Bird People from Pascale Ferran) is a hot coil of repressed longing, a smoldering equal to Duris' scene-stealing, their union gaining new heights of erotic charge each time they meet (Ozon appears in an entertaining cameo himself).
Demoustier's open, freckled face and wide innocent stare recalls a young Huppert circa 1977's The Lacemaker, her performance a complicated series of feelings conveyed mostly without dialogue. It's evident early on that the real object of her desire is best friend Isild Le Besco, whose haunting visage makes her excellent casting for Ozon's purposes. Hot house dream sequences reveal as much about her character as they do the staunch repression of sexual expression in bourgeoisie society, which Ozon seemingly wishes to plumb the characterization of in the similar vein of Chabrol.
At the third corner of this triangle is rising star Raphael Personnaz, the straight man, so to speak. He registers as the least interesting of the trio but his presence provides a dramatic edge, the representative of what Claire's forced herself to endure in her prescribed existence. It's rare to see such deft explorations of desire and gender norm sublimation with such panache outside of Almodovar these days. It's great to see Ozon return to the insidious playfulness that's marked some of his greatest achievements. The New Girlfriend is creepy, weird, and a lot of fun.
Reviewed on September 10th at the 2014 Toronto International Film Festival – Special Presentations Programme. 105 Minutes
★★★★/☆☆☆☆☆