Reviews
I Believe In Unicorns | Review
Oh Them Silly Unicorns: Meyerhoff's Coming of Age Debut Prizes Style Over Substance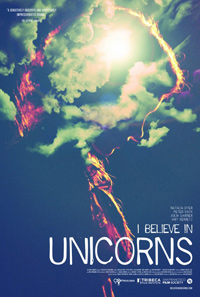 Director Leah Meyerhoff most effectively conveys the nature of her debut film, I Believe In Unicorns, in its opening credits, which features a host of (mostly feminine) childhood fantasies revolving around celebratory effects, such as sparklies, cakes, and (yes) unicorns, all eventually melting down into smeared goo. Memories and dreams evaporate into the mess of reality, it seems to say, and we're thrust into the late adolescence of a protagonist who, on the cusp of adulthood, seems to be getting her first taste of that. Skirting between vaguely morbid instances and sometimes carefree tempos, Meyerhoff's narrative seems to lose focus, petering out into a gasp of profundity that would have felt much stronger had it been preceded by more remarkable characterization.
A sheltered, lonely young woman, Davina (Natalia Dyer) is forced to take care of her sickly mother. Escaping into her fantasy world which is comprised mainly of unicorns, the rather awkward teen meets a handsome young man named Sterling (Peter Vack), and it seems like love at first sight for Davina. Her best friend, Cassidy (Julia Garner), seems dubious about Davina's boyfriend, and her judgment seems right, at first. After becoming intimate, Sterling seems to back away from Davina, later explaining, "I get that way sometimes." But soon, they're thick as thieves and gallivanting into their own adventures. Except that, the more they learn about each other, the more reality seems to ingratiate itself into their idyll.
As far as films focused on self-reliant and potentially maladjusted coming of age tales go, Meyerhoff shows an intriguing visual flair, though this tale of a quickly soured first love tends to get a little monotonous. Another recent indie film focusing on a female teen protagonist taking care of herself without the aid of parents is Jenny Deller's 2012 film, Future Weather, which navigates this landscape to better effect. Perhaps it doesn't help that Davina is a bit underdeveloped for her age, escaping into her fantasy landscape of Claymation-ish unicorns and dragons that seem inspired by Jan Svankmajer.
Too often, her devolving moments with love interest Sterling feel a titch forced, such as a couple instances where she manipulatively interjects that he's just like his father, a man that abandoned his family. Their adventures seem aimless and rather uninspired, even when Sterling drags Davina to some kind of outside carnival that looks like the modern equivalent of Mortville from Desperate Living (1977). More effective are Dyer's scenes with Julia Garner and her omnipresent blonde curls, including a kiss scene that seems sweet and strange.
While the animation bits do have an interesting look and feel, it sometimes feels like Meyerhoff depends on these sequences too much, especially toward the finale when Sterling loses his temper, making the dragon, his counterpart in her dream world, incinerate the unicorn. Also distracting is a score that's going to nag your memory, for it sounds just like Hans Zimmer's playful composition from 1993's True Romance.
"Maybe when I learn to breathe, I'll finally be able to talk," ruminates the melancholy Davina. And certainly, we get the sense that she's a young woman that's not come into her own yet, slowly discovering herself and emerging from the sheltered world she's built. But the idea of existing without agency isn't explored to satisfactory effect in I Believe In Unicorns, and maybe it would have been wiser to give Davina something of substance to say.
Reviewed on March 9 at the 2014 SXSW Film Festival – Narrative Competition.
★★ / ☆☆☆☆☆