The Vice of Virtue: Brougher's Latest Achieves Varied Results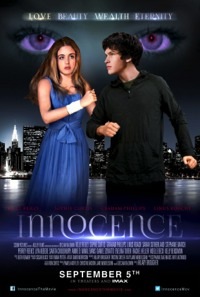 Those familiar with Hilary Brougher's offbeat sensibilities, as showcased in her delightful 1997 debut The Sticky Fingers of Time, and the Tilda Swinton headlined drama Stephanie Daley (2006), will be happy to know that her long awaited third film has arrived, an adaptation of Jane Mendelsohn's 2000 Young Adult novel, Innocence. A project first announced several years ago with a revolving list of high profile names announced as being attached (Julianne Moore, Chloe Sevigny, and Abigail Breslin, for instance), it seems Brougher's had a bit of difficulty getting this project put together, which is evident in the final product, a film reminiscent of vintage stabs at YA thrillers back in the 70s and 80s, such as several classic Disney titles. While it never quite succeeds as an effective thriller, Brougher manages to strike a moody ambience with this familiar material, and an arresting Kelly Reilly nearly makes up for the lukewarm screen presence of young lead, Sophie Curtis.
Sixteen year old Beckett Warner (Curtis) is haunted by the recent death of her mother, which she witnessed firsthand in an unfortunate surfing accident. Her father Miles (Linus Roache), is a famed novelist, and pulls some strings with family friend Natalie (Stephanie March) to get his daughter enrolled in Hamilton preparatory school for girls. Natalie runs the school and just so happens to have a teenage son Tobey (Graham Phillips) that Beckett takes a liking to. Natalie's staff, besides all being elitist beauties, are all part of a high brow book club that tend to meet at odd hours at night and in the school. Miles' notoriety brings him into contact with the fetching school nurse, Pamela (Kelly Reilly). It's not long before Pamela is spending the night with Miles and buying Beckett lavish gifts. But there's something not quite right about Pamela and the group of glossy ladies running Hamilton. Something very suspicious, indeed.
The world of the adolescent female is a difficult subject to relay onscreen, maybe better suited for melodrama when it comes to the morals of American cinema. Genre films tend to prize a lone remarkable female, granted amazing gifts that mark her as more special than all the others (though we're usually just told and not shown what makes them so great).
Brougher's examination of the American teenager focuses on a somewhat unremarkable female, one who is preyed upon for merely being virginal. This nearly excuses Sophie Turner's subdued performance, so restrained she seems lobotomized, but as the devious powers transpire against her (not to mention a requited romantic attachment), Turner proves to have a limited emotional range. A more striking presence is required in the role, which would have made the film's limited budget for special effects more forgivable. Some fancy editing tricks try to mask several moments requiring their powers, but these often feel agonizing or awkward in a film that otherwise develops a certain transfixing tone, aided by Brougher's carefully chosen soundtrack.
While this plays like Suspiria-light, Brougher manages to make a much better film about insidious goings on at an all-girls school than, say, Mary Harron managed to with the miserable The Moth Diaries. Still, in a modern world where ancient covens still exist, one would wish that the supernatural world would be a bit more progressive—this virgin motif seems incredibly dated, even though Brougher is trying to make this an allegory about modern female adolescence, which doesn't quite add up.
Though she's not the heavy-hitting name like Moore or Sevigny, Kelly Reilly is the film's greatest asset, another offbeat role for her varied filmography. Other supporting players, like Stephanie March, give distracting, overly mannered performances. Standing as Brougher's least successful film (we hope she doesn't take as much time to get the next project off the ground, registering at nearly a decade between each feature) Innocence feels much more inspired than most films of its ilk, even if it's not wholly successful. At least do the film a favor and ignore the appalling poster art and stunted marketing.
★★½/☆☆☆☆☆