Insidious: The Last Key | Review
Back to Basics: Two Prequels Forward Equals Another Step Back for the B-Horror Franchise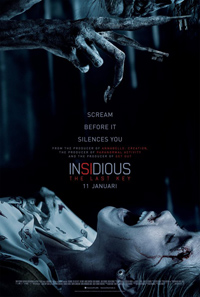 When James Wan premiered his wonderfully effective 2010 supernatural thriller Insidious, little did we know the PG-13 underdog would spawn its own convoluted franchise to coincide with his concurrent Conjuring property. By the time a subpar sequel quickly segued into serviceable prequel (and transferred the directorial seat into the hands of screenwriter Leigh Whannell for 2015 installment Insidious: Chapter Three), in which everyone finally seemed to figure out the beating heart of the through line rested on the head of Lin Shaye's empathetic parapsychologist (who is killed off in the 2013 follow-up), the franchise had already painted itself into an immovable corner. Now, director Adam Robitel, responsible for the highly entertaining, sleeper indie horror cult title The Taking of Deborah Logan, gets a crack at mainstream studio property with the fourth installment, Insidious: The Last Key, which more-or-less plays like a sequel to the third film, if you're keeping track (and is still a prequel to the 2010 originator).
Tracking back to the childhood origins of Elise's gift (and the severe familial dysfunction from which she escaped), an enjoyable lead performance from Shaye still allows for some particularly fascinating moments of poignancy from what could otherwise be an outright piece of detritus from the carcass of a throwaway cash cow. Whannell returns, perhaps unwisely, as screenwriter, plucking away at all-too-familiar twists and turns which only gets us further and further away (pun intended) from the strengths of the original material. While we see way too much of the oogie key-master demon bringing us full circle through Elise's self-actualization, and the screenplay has a few too many risible moments of incredulity, this is still a head above most horror franchise installments dumped into theaters during the first weekend of the new cinematic year.
Waking from a nightmare regarding her mother's murder in 1953 Five Keys, New Mexico, parapsychologist Elise Rainier (Shaye) receives a phone call the same day from a man who needs her help and happens to live in the cursed house she grew up in. Reluctant to take the job, Elise leaves her California home to confront the demons of her past with sidekicks Specs (Leigh Whannell) and Tucker (Angus Sampson) in tow. Alerted by the presence of a young woman who wishes to reveal something to Elise, revelations about her family are confirmed and coincide with some other deadly secrets enclosed in the house, including an insidious, soul-sucking demon Elise allowed to break into our world the night her mother died.
Shaye gets away with selling a good seventy-five percent of the ridiculous screenplay, although even she is not exempt from several particularly hammy moments. As her ghost busting sidekicks, Whannell and Angus Sampson provide broad comic relief, nearly all of which either negates the film's eerier properties or usurps Shaye's quieter emotive moments. Once a mid-narrative major twist is revealed, The Last Key balloons into labored overdrive, forced to contend with its own known mythology, details mostly occluded by a series of tangential and tangible real-life horrors which seem much more terrifying (the film's best unnerving moment, which isn't courtesy of a jump scare, finds Elise digging through items left behind by a number of unfortunate female victims).
Familial reunions are served as mere plot contrivances, which is too bad considering Oscar nominee Bruce Davison (the genre stalwart who starred in the first Willard and is perhaps best recognized for either Longtime Companion or for his barbed villain in Singer's original X-Men films) appears as an estranged brother. Caitlin Gerard, who was as equally unimpressive in Walter Hill's The Assignment (2016), shows up for some third act bits of nonsense, a non-sequitur whose relationship with Shaye's niece (Spencer Locke in the film's blandest role) seems a bit too intimate not to comment on but who gets pigeonholed into being the lecherous object of Specs and Tucker.
A nonsensical resolution for an entity whose mettle is not quite as insidious as the film's own brand has tried relentlessly to establish attempts to sell a similar message to Jennifer Kent's incomparably superior The Babadook (2014) in that evil must ultimately be vanquished by the purity born from bonds which are able to acknowledge the eternal duel between good and evil and therefore keep the latter's constant tendrils and temptations at bay. Unnecessary and far from noteworthy, Insidious: The Final Key should provide the final nail in the coffin for the film series—however, should it prove profitable at the box office, it will likely become a corpse yet again exhumed.
★★/☆☆☆☆☆