Love Language: Sandoval Paints Subtle Portrait of Tenuous Lives on the Periphery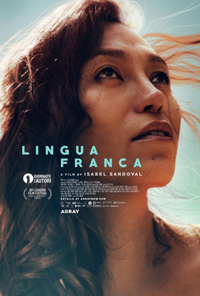 Eventually, the third film from Isabel Sandoval, Lingua Franca, should eventually serve as a mindful time capsule of intersections in troubling times of the United States. However, the land of the free and home of the brave seems anything but in this contemporary portrait of a trans woman who is also an undocumented immigrant struggling to make her way through an increasingly fraught atmosphere of transphobia and xenophobia in Brighton Beach.
Notably, this is Sandoval's first feature with her new identity (previously having directed the features Senorita in 2011 and Apparition in 2012, as Vincent Sandoval, the latter considered a seminal entry in contemporary Filipino cinema), and it is the first feature directed by a trans woman of color to compete in Venice Days at the 2019 edition of the film festival.
A fragile yet moving exploration of sensuality, romance and the struggle for stability (both emotionally and economically), Sandoval succeeds in a sensitive, timely portrait which elegantly balances its competing strands of disenfranchisement.
Olivia (Sandoval) is an undocumented Filipino trans woman working as a caregiver for Olga (Lynn Cohen), an elderly Russian immigrant living in Brooklyn. While Olivia's best friend Trixie (Ivory Aquino), who also shares the same background, has found love and a path to citizenship through marriage, her own avenue for a husband has evaporated, leaving her out of options in an environment increasingly hostile towards trans people and immigrants. Without the ability to even change the name and gender on her passport, Olivia's fears for her future have not diminished her care for Olga, whose troubled grandson Alex (Eamon Ferran) has come to live with them while beginning a job working for his uncle in a slaughterhouse. Although Alex still has a lot of maturing to do as he's eager to improve himself in the eyes of his family while recovering from substance abuse, he gravitates towards Olivia, who begins to respond positively to his advances.

A 'lingua franca' is ostensibly a bridge language which makes communication possible between two parties who do not speak the same native language, but Sandoval's motif extends beyond an understanding of language and culture with tenuous categorizations of gender identity.
As the center point, Sandoval is a calming, tranquil and completely captivating screen presence as the painstakingly kind Olivia. Her interactions with Lynn Cohen's Olga (one of the character actor's final performances prior to her death earlier this year) are warmly empathetic, displaying Olivia's capacity for patience despite her own predicament, especially the more we learn about the woman who previously occupied her position. Likewise, Eamon Ferran as the aimless Alex is also a highlight, and his interactions with Olivia provide the backbone for the film's languorous second half and a fittingly ambiguous finale.
ICE raids and Trump's vitriol infect the news media sound bites which compound Olivia's internalized tension, but hysteria is never an option. Sandoval's visual cue of Lady Chatterley's Lover points us towards the sensual direction which her relationship to Alex takes, while a slaughterhouse in the background also recalls the inspired romantic entanglement of Ildiko Enyedi's On Body and Soul (2017).
Sandoval quite effectively builds the invisible tension of trans narratives, for at any moment, we get the sense this could dissolve immediately into a horror narrative should any of Olivia's 'secrets' be discovered by those who she's made herself vulnerable to. Although supporting characters and cast members oscillate between flat characterizations and labored exchanges (an exception being Ivory Aquino as Olivia's childhood friend), Lingua Franca is a quietly moving portrait of resilience despite significant odds.
★★★/☆☆☆☆☆