The Personal History of David Copperfield | Review
I am (re) Born: Iannucci Condenses a Dickens Masterpiece with Contemporary Aims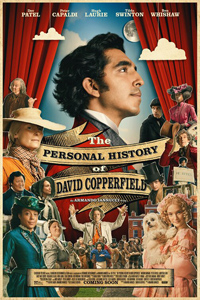 "It's in vain to recall the past, unless it works some influence upon the present," is perhaps the most fitting quote from the actual text of Charles Dicken's classic 1850 serial-turned-novel adapted by Armando Iannucci as The Personal History of David Copperfield. The original title, of course, is not the only necessary item condensed from the 600 page text, and is one of several notable elements from Iannucci's version, who brings his "Veep" scribe Simon Blackwell along for the ride.
More often than note, this particular Dickens text is either treated to a wholly abridged television version (such as notable offerings from Delbert Mann and Peter Medak in decades past) or, more often, almost always presented as a television mini-series. Not since George Cukor's 1935 mounting has the novel been presented as a theatrical feature narrative, with Iannucci and Blackwell fine-tuning enough to make this fit into a sensible two-hour running time.
Handsomely photographed with several sequences of pronounced visual flourish, the most interesting facet of this latest version is the color-blind casting, which works quite effectively, thanks in part to an impressive array of performances. At the same time, there's something unavoidably underwhelming about one of the literary world's most revered examples of the bildungsroman.

Beginning in the same vein as the novel, Copperfield narrates his own birth, wherein the death of his father causes his mother (Morfydd Clark) to remarry the sinister Murdstone (Darren Boyd), who along with his venomous sister (Gwendoline Christie), brings a season of darkness to the estate after the child's brief idyll with maid Peggotty (Daisy May Cooper) in her hometown. Sent off to work as a child laborer in a bottling factory, David comes of age (now Dev Patel), and absconds after learning of his mother's death. Seeking solace with the Micawbers (Peter Capaldi, Bronagh Gallagher), a family of squatters eluding the authorities, he's forced to seek refuge with his neurotic aunt, Betsey Trotwood (Tilda Swinton). As she sends him to school to become a proctor, the Trotwood fortune is nefariously drained through the machinations of Uriah Heep (Ben Whishaw), a situation eventually remedied as David struggles to write his labyrinthine narrative whilst meanwhile falling in love with Dora (also Clark).
While it's automatically the most offbeat version of David Copperfield by far, Iannucci's commitment to droll comedic flourishes declaws both the dreary realities of Dickens' universe as well as his own expected tendencies, as evidenced in his dark satires In the Loop (2009) and The Death of Stalin (2017), not to mention his beloved television series "I Am Alan Partridge," "The Thick of It," and, of course, "Veep."
Certainly not as dry and verbose as some Dickens adaptations tend to be, the joviality robs Copperfield's personal journey of the desperation overcome in his trials and tribulations. Still, there's much to be enjoyed, particularly in the inspired casting of Dev Petal (and Jairaj Varsani as the child version) of David Copperfield, who is often a breath of fresh air as the amiable eponymous protagonist. He's supported by some phenomenal work by Tilda Swinton as his batty and neurotic aunt Betsey Trotwood, as well as a sniveling Ben Whishaw as the opportunistic Uriah Heep.
Hugh Laurie and Peter Capaldi seem to be playing flips side of the same crazy coin (revealed to be integral to the plot), while another odd element is Morfydd Clark (who gives a striking lead performance in Saint Maud, 2019) as both Copperfield's mother and eventual love interest Dora Spenlow (a character who has a happier end here than in the novel), which adds additional complexities of the casting on the narrative, of course. Nikki Amuka-Bird and Aneurin Barnard as the mother and son Steerforths also makes for some interesting commentary, especially as it reveals the color blind casting allows for the cornerstone of Dickens' themes to surface, namely class values and privilege born from economic disparities.
One wonders if this couldn't have been pushed a bit more vehemently, however. The classic Dickens villains get the short shrift, but a raven-haired Gwendoline Christie proves what a more fitting casting choice she might have been as the Jessica Chastain character in Guillermo Del Toro's Crimson Peak (2015).
An interestingly framed and ornately photographed production (thanks to DP Zak Nicholson, who lensed The Death of Stalin), while it may introduce a new generation to one of Dickens' most famous, arguably cinematically neglected classics (at least compared to Oliver Twist, Great Expectations, or A Christmas Carol), it may perhaps be more enthusiastically embraced by those familiar with the author and original text.
★★★/☆☆☆☆☆