Sew the Winter to My Skin | 2018 Toronto Intl. Film Festival Review
Or Else It Gets the Hose Again: Qubeka Recuperates a Rebel from Apartheid South Africa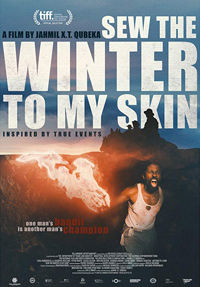 South Africa's film industry remains somewhat on the fringe of itself, a place explored as a subject due to its infamous history of Apartheid rather than a landscape conducive to filmmakers and storytellers. That's not to say there aren't a diverse multitude of perspectives deserving of their own narrative coming out of South Africa or that a larger majority of them aren't being produced and distributed—it's just few get beyond the festival circuit, and those that do are most often directed by white men. While Neill Blomkamp came blazing out of Joburg like Paul Verhoeven's ascension from the Netherlands, a smaller coterie of burgeoning auteurs have slowly been gaining critical acclaim, among them the likes of Oliver Hermanus (Beauty, 2011) and John Trengove with last year's The Wound. However, equally deserving of acclaim is Jahmil X.T. Qubeka, on hand with his third feature, the poetically titled Sew the Winter to My Skin, a recuperation of 1950s South African outlaw John Kepe, who robbed from the white colonist farmers and gave back to the poor. Qubeka traces the last days Kepe, after having evaded capture for twelve years.
In South Africa's rural Great Karoo region in the 1950s, outlaw John Kepe (Ezra Mabengeza), aka the "Samson of the Boschburg Mountains" was a notorious threat to the established system of Apartheid, robbing from the white framers and redistributing the goods amongst the poor indigenous population. His twelve-year spree ended with a massive man hunt, tracked to the cave he lived in, leading to his eventual execution.
Qubeka's last film, the stellar genre blend Of Good Report, was a menacing, sweaty, and sweltering film noir about a South African school teacher and his affair with a student. Even the film's black and white cinematography had an arid fecundity to it, its impoverished characters jumping upon a passion which suggested all the vibrancy of a color film but only pushed them further into darkness.
Returning DP Jonathan Kovel presents the opposite here in dreamy, lucid frames which spasm with color in many sequences often devoid of dialogue. While its description suggests Robin Hood, Qubeka's film is reminiscent of genre favorites like The Fugitive (1993), but its dire subject matter is more appropriately aligned with somethingike Nate Parker's The Birth of a Nation (but less viscerally brutal) or, perhaps most of all, The Ballad of Gregorio Cortez (1982) which similarly depicted a band of angry white men hellbent on vengeance against a Mexican American they believed it was their duty to exterminate.
If Sew the Winter to My Skin is a bit less potent than the noirish Of Good Report, it's also a significant step forward in Qubeka's technical skills, using his score and his imagery to create mood and tone. Meaningful and often a tad restrained, Qubeka presents Kepe as the subject of a meditative western, a fitting package for a man pursued through a wild frontier by white colonialists.
Reviewed on 8th at the 2018 Toronto International Film Festival – Contemporary World Cinema Programme. 118 Mins.
★★★/☆☆☆☆☆