Of Human Bondage: Ivory Gets Art Deco Dysfunction in Underrated Rhys Adaptation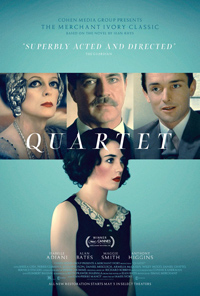 Merchant Ivory became the first major company to adapt the work of novelist Jean Rhys for a film feature with 1981's Quartet, an effort which happens to be a bit more salacious than many of their most revered and beloved period offerings (to date, only John Duigan has recuperated the seminal Rhys with 1993's Wide Sargasso Sea, the novelist's most famous work). Considering its pedigree and cast, which includes Isabelle Adjani, Maggie Smith and Alan Bates, it's surprising the film has remained forgotten and largely unavailable, which adds to the enticement and excitement of a new 4K restoration courtesy of the Cohen Media Group.
A rather licentious and anomalous pre-WWII expat narrative, which is reminiscent of the gothic side of the Brontë sisters and W. Somerset Maugham (particularly Of Human Bondage), it's more of a period exercise than a successful character study, as the original text perhaps intended. Uniformly compelling performances (particularly an agonizing Maggie Smith) makes this ripe for rediscovery, potentially as a reminder for the unmined body of work from neglected literary titan Jean Rhys.
In 1927 Paris, Marya (Adjani) finds herself forlorn and alone when her husband, Polish art dealer Stephan (Anthony Higgins) is imprisoned after being convicted of selling stolen artwork. With no one to turn to, Marya finds herself accepting an offer proposed by H.J. and Lois Heidler (Alan Bates and Maggie Smith), a wealthy Englishman who dabbles in art dealing while his wife professes to be a painter. Marya quickly discovers H.J. has a history of inviting vulnerable younger women to their spare room, along with unsaid collateral duties expected of them. More surprising is Lois' role, who serves as a friendly but often vindictive collaborator complicit in her husband's particular sexual needs. While Marya attempts to keep ties with her husband for weekly visits to the prison, she finds herself drawn further and further into the Heidlers' web, despite the protestations of several acquaintances.
Vincent Canby's review in The New York Times had an issue with the casting of Isabelle Adjani as Marya, originally a British waif in the novel (Ruth Prawer Jhabvala keeps a shady line for Smith on Marya's appearance), here re-configured as half French and Creole to accommodate Adjani. And while Adjani most certainly doesn't conjure the specter of waif-dom, her formidable beauty affords Ivory's film a different kind of treatment—the rationale for everyone's apparent obsession and desire for her (not to mention the historical cinematic tradition of transforming literature's 'plain' heroines into demure, unconventional beauties—at least drawing on the various mountings of Jane Eyre, from Joan Fontaine to Mia Wasikowska, each at their own arguable intersections of vulnerability and neither remotely close to the homeliness described by Charlotte Brontë).
To revisit Quartet nearly four decades later is to realize a range Adjani isn't often given credit for. At the 1981 Cannes Film Festival she took home Best Actress for her dual roles in this film and Andrzej Zulawski's incomparable Possession, the latter of which is a performance of nightmare and madness in keeping with where Adjani was often directed to go (and territory she was often awarded for, considered her Academy Award nominations for playing Victor Hugo's daughter in Truffaut's 1975 The Story of Adele H. and the crazed sculptress of Bruno Nuytten's Camille Claudel in 1988).
But if Adjani is dialed back to demure objectification, the actual revelation of Quartet is a searing Maggie Smith as the pretentious, irrepressibly jealous Lois Heidler, whose gender and period have determined she has to commit to her prescribed role of decadent dysfunction with the philandering Alan Bates (of note, Ivory initially didn't want Smith for the role). To divorce would be ruinous and the price she pays is her private anguish. The Heidlers' relationship with Marya already is introduced with a foreboding storm cloud—the last waif they assisted killed herself in their home, and as we come to learn, it was due to the same circumstances Marya becomes indoctrinated. Ivory positions Lois in front of mirrors, always staring at her reflection, for she is a character obsessed with the image she reflects upon the world. Personal feelings are nothing compared to the image she must project and the social status she must maintain. Bates fulfills his duty as a lothario who's gone to seed, and if it seems a stretch how Adjani (and to that end, Smith) would be equally enamored with him, one must remember their limited options (in a sequence featuring Pierre Clementi, Adjani agrees to model for him only to find what he has in mind is pornographic).
Ivory's film more closely resembles a trio (or ménage a trois) than a quartet, as Anthony Higgins receives scant screen time in comparison to the others as Adjani's husband, whose scheming has forced him to leave Paris and attempt his shady art dealings in Amsterdam upon his release. And ultimately, Adjani does a fine job of conveying a woman confused as to the reasons for her emotions and allegiance—is she in love with either of them or merely the possibility of survival?
Several notable supporting players include Suzanne Flon as a friend of the Heidlers' who serves as an unofficial guide to what's expected of their 'ward,' and Sheila Gish as another bitchy consort in this coterie of viper ex-pats. Celebrated DP Pierre Lhomme (who had plenty of opportunities to make Adjani ravishing, including in Claudel as well as Claude Miller's Deadly Circuit, 1983) does an expert job of conjuring Rhys' world, including its claustrophobic, mysterious interiors housing frivolity and hedonism for some and degradation and despair for others.
★★★½/☆☆☆☆☆