No Woman, No Cry: Bustamante Reconfigures La Llorona as Avenging Equalizer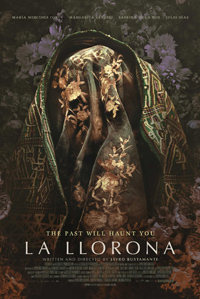 Though she was recently resurrected as a superficial money grab in this year's Warner Bros. effort The Curse of La Llorona, no one has quite imagined her as director Jayro Bustamante has in his third film, La Llorona, a political allegory melding the supernatural and retribution mired in traumatic political subtexts. At the frontier of Guatemala's slowly growing film industry, Bustamante became instantly of note with his 2015 debut Ixcanul, a drama about an arranged marriage amongst the Kaqchikel people (an ethnic subgroup of the Mayans), which competed in Berlin, which he followed with this year's Tremors, a searing indictment on homophobia in the country's formidable religious background.
His latest is inspired by the Latin American urban legend of La Llorona, a Medea-like figure who married above her class, and whose husband later abandoned her, causing her to drown their two children, their bodies carried away by the river. After coming to her senses, she commits suicide, ultimately doomed to roam the Earth for all eternity until she's reunited with them, wreaking havoc upon any humans she encounters. Bustamante recycles the famed oral story to present La Llorona as an avenging angel, a victim of the treacherous Guatemalan Civil War which took place between 1960 and 1996 and resulted in the genocide of the Mayan population, whose lands were pillaged and taken from them at the behest of the government. In Bustamante's rehash, a once formidable general is brought to trial for his participation and approval of reprehensible war crimes, but his guilty verdict is overturned by a corrupt powers government, paving the way for the vengeance of La Llorona.

Comeuppance of unpunished elitist war criminals has become something of a trenchant staple in many genre-flavored items and various melodramas in recent Latin American and Spanish language cinema. Not only Pablo Larrian's Pinochet trilogy, but from Argentina, Pablo Trapero's hothouse incest drama La Quietude, which takes a roundabout stance with its portrait of a crumbling family dynasty, the offspring of war criminals languishing in dysfunction as the past finally catches up to their parents. Bustamante's angle is perhaps more closely aligned with Salvador del Solar's Lima set Magallanes, where the war crimes of a retired colonel are revealed through an association with a beautiful survivor played by Magaly Solier.
Bustamante begins on a note of whispery dread, which only deepens as the narrative progresses. As we're thrust into the declining health of General Enrique Monteverde (Julio Diaz), it at first appears justice prevails when he is convicted of genocide just as he begins to fall prey to Alzheimer's. The courtroom sequences are filled with menace, particularly as a guilty verdict is read by a young judge condemning his actions and members of the press swarm from behind like a throng of wasps or a dark storm cloud.
Victory for the people is short lived when the verdict is overturned by Congress, and thus, balance must be restored by the mysterious new maid Alma (Maria Mercedes Coroy of Ixcanul), who seems to be haunting the feeble General through hallucinations. As the drama spins into genre, Bustamante gets a lot of mileage from the other two women affected by the General's past misdeeds, his scorned wife Carmen (Margarita Kenéfic) and oblivious daughter Natalia (Sabrina De La Hoz, who made her debut as a cold-blooded pastor in a brief but memorable role in Tremors). The punishment fits the crime, it seems, as Carmen progresses from a cruel critic of the decimated Mayan women to a cipher for La Llorona's spirit, reliving the cruel murder of her children years ago at the hands of the heartless General. Natalia hails from a generation of systemic racism, glibly relaying microaggressions ("The indigenous people have children so fast") yet aware the accusations against her father are likely true.
Nestled as we are in the bosom of privilege, the Monteverde clan are all archetypes, while Coroy is mostly on hand for a variety of haunting episodes luring the disgraced General and his unwitting clan to folly. Only Valeriana (Maria Telon, who has appeared in all three of the director's features) seems completely tethered to him, and we're led to believe she is the General's illegitimate child.
Strong in mood, tone and subtext, if ultimately a bit unsurprising in its third act, The Weeping Woman does manage to sustain its unease, bolstered by an effective, chilling rendition of The Ballad of La Llorona.
Reviewed on September 5th at the 2019 Toronto International Film Festival – Contemporary World Cinema Program. 96 Mins.
★★★½/☆☆☆☆☆