The Shadow of Violence | Review
Goodbye Horses: Rowland Riles Allegiances in Familiar Crime Thriller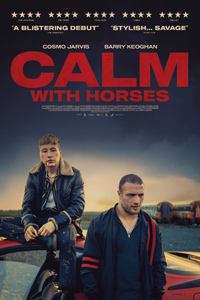 It's a tale as old as crime itself, the toppling of empires thanks to the shifting allegiances of subordinates in the realm, and it's a process which plays out as exactly as expected in Nick Rowland's debut The Shadow of Violence (originally titled Calm with Horses), a light neo-noir set in rural Ireland.
A pair of lead performances from young notables Cosmo Jarvis and Barry Keoghan supply the requisite energy to keep the narrative rolling through the paces, but one wishes Joe Murtagh's script had seen fit to examine some potential alternative perspectives to aggravate the predictable story arc and the character's limited choices within it.
Douglas "Arm" Armstrong finds himself caught between a rock and a hard place when he is first asked to brutally maim and then kill a man (Liam Carney) who has sexually assaulted a member of the local drug syndicate, the Devers. Answering to the young and impetuous Dympna (Barry Keoghan), Arm finds himself unable to exterminate the man, instead setting him free if he agrees to never return. Such actions prove to have dire consequences for Arm, who has become more focused on retaining a relationship with his ex-girlfriend (Niamh Algar) in caring for their autistic son. Arm's hesitation to commit murder has sealed his fate, however, and the walls soon close in on him.
A variety of down-and-dirty familial crime syndicates have reinvigorated the crime thriller as complex portfolios of structural hierarchies, one in which blood is always thicker than water, it seems. David Michod's 2010 Animal Kingdom remains a lauded contemporary example, and Denmark's Jeannette Nordahl covered similar territory in the recent Wildland.

If it weren't for Jarvis, who is nearly unrecognizable following his tortured turn in William Oldroyd's Lady Macbeth (from which his co-star Florence Pugh benefitted significantly with a breakthrough performance), The Shadow of Violence could have been as lifeless as its vague new title, and his ex-boxer "Arm" is a myriad of complexities, a failed vestige of masculinity used only for his hulking frame and violent physical prowess.
One wishes Murtagh's script allowed for something a bit deeper and more complex in his relationship with Dympna, not unlike the Matthias Schoenaerts breakout from Bullhead (2011), Michael R. Roskam's breakout film. But Rowland does give us a tortured portrait of people stuck in less than desirable circumstances born of dire economic necessity—one gets the sense Arm is driven to the Devers as a way to escape having to learn how to properly care for his autistic son.
Niamh Algar is effective in her handful of scenes as an increasingly frustrated mother, and Keoghan fluctuates between a haughty, cold veneer and vaguely attenuated menace in his relationship to Jarvis. The rural Irish locale is beautifully photographed by Piers McGrail (Glassland, 2014), which becomes most apparent in a well-staged car chase, and both David Wilmot and Ned Dennehy are customarily repulsive as a couple of baddies in the local power structure.
★★★/☆☆☆☆☆