Donkey Skin: Skolimowski Restages Bresson for the Modern Age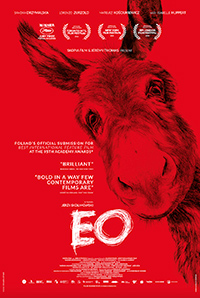 Robert Bresson's 1966 film Au Hasard Balthazar is considered a masterpiece, though its reputation took a few years to catch on with its merits. Based on a passage from Dostoevsky's The Idiot, it tells the tale of a titular donkey as he passes between owners, left to die after we've experienced examples of the seven deadly sins. The legendary Jerzy Skolimowski updates the exercise in his latest film EO (which sounds a bit like Eeyore, the melancholic cartoon donkey of Winnie the Pooh).
Godard hailed the original film as representing "the world in an hour and a half" (he would later marry the lead, Anna Wiazmesky). Skolimowski limits himself to Poland and Italy for his own donkey's journey (in a production which took two years), and while the overt themes of suffering are indeed apparent this time around, the donkey doesn't suffer all the major blows. Likely to receive the same initial mixed response of lukewarm confusion or glowing raves, the current climate of humankind through a donkey's eyes might just be more hopeful, but showcases an eternally fascinating and curious auteur who's remained enigmatic for seven decades.
While Skolimowski took a sixteen year break between 1991 and 2008, he's chosen some interesting frameworks in the latter days of his career. The transfixing Essential Killing (2010) was sans dialogue, and his last film, 11 Minutes (2015) featured a spectacular final shot of mass destruction in a narrative of fated interconnectedness. Connection seems to be his interest yet again as we pursue EO, first released from bondage as a circus perfumer due to new laws in Wroclaw protecting animal rights.
His situation doesn't improve too terribly because he misses the fervor of his co-star Kasandra (Sandra Drzymalska), though he does receive a carrot muffin on his birthday in his next home. We move from horse stables to a farm, to a potentially dangerous stint in the woods, then animal control, witness to a murder, and finally, an Italian slaughterhouse, mimicking the finale of Andrea Arnold's Cow (2021). The most sensational moment involves migration and communication issues in a segment with noted Polish actor Mateusz Kosciukiewicz (who appeared in 11 Minutes and has headlined a couple Malgorzata Szumowska features).
The scene stealer is the iconic Isabelle Huppert, looking resplendent as a French woman named The Countess, regaling her son (Lorenzo Zorzulo), a failed priest in need of money, who returns to her doorstep with EO (Huppert's daughter, Lolita Chammah, is on hand as a silent aid). They prove to have the customary kind of relationship you'd expect with Huppert as a matriarch, but it makes for an entertaining respite.
Skolimowski collaborates once again with noted Polish composer Pawel Mykietyn, and the score is one of the film's most persuasively moody features. Also, some impressive camerawork from DP Michal Dymek (Sweat, 2020) assists in enhancing the journey, like a crimson coated segment where the camera swoops in like a bird of prey featuring aerial shots of landscapes and predatory peers living their best lives in the forest. In the end, it would seem EO merely gets a sense of a topsy turvy world, but at least he's well traveled.
Though released from being the slave of a cruel circus performer, there's no plan set in place to look out for EO's 'rights,' and so he wanders a terrain where friendly competition turns deadly, kindness is suspect, and saviors only want to use you for their own ill intentions. In the end, EO is treated like every other oddity and outcast. While there's no human character ground down enough to reflect Wiazemsky's sentiment "Your words don't affect me anymore" in the original, the subtext about how we use, destroy and devour animals and exploit beasts of burden is the ultimate takeaway. And, hence, the rationale for an update on the suffering of Balthazar, whose descendent EO receives the same senseless end of meaninglessness.
Reviewed on May 19th at the 2022 Cannes Film Festival – Main Competition. 88 Mins
★★★½/☆☆☆☆☆