When You Finish Saving the World | Review
A Tube with a View: Eisenberg Debuts Gentle Narrative on Misplaced Intentions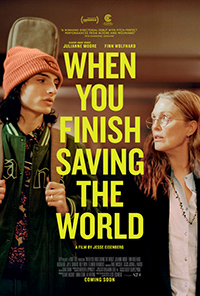 'Familiarity breeds contempt,' could have been the tagline for Jesse Eisenberg's lovely, low-key directorial debut When You Finish Saving the World. The expression dates back to Chaucer and is usually the dramatic catalyst for many a narrative detailing struggles amongst romantically involved, heteronormative aligned adults. Eisenberg turns this slyly on its head by mining the 'family' part of the familiar in a gently observational tale about a well-intentioned mother and her oblivious, narcissistic teenage son, characterized with aplomb by Julianne Moore and Finn Wolfhard, respectively. Their juxtaposition highlights the necessity in balancing consideration for yourself and caring for others, and while neither revolutionary nor rudimentary, it's a surprisingly sober and mature portrait on animosity and forgiveness.
Evelyn (Moore) works at an Indiana women's shelter she has helped build from the ground up. Her teen son Ziggy (Wolfhard) is a popular singer on a social media platform who's become consumed with his popularity. Neither of them seem to regard one another with much respect, but both of them are too busy to pay attention to their husband/dad (Jay O. Sanders). However, they're both about to be shaken up by new endeavors. Ziggy finds himself enamored with the political and passionate Lila (Alisha Boe) at school while Eveline is drawn to Kyle (Billy Bryk), who was just admitted to the shelter with his mother (Eleonore Hendricks). However, their admiration for these new parties in their lives eventually becomes repellant, forcing them, perhaps, to finally regard one another again.
Moore excels at playing these kinds of thorny, intimidating women, who are often as prickly as they are warm. Evelyn's authenticity and her grand intentions are such they alienate her, however. Like a harpy, she descends on her colleagues for daring to throw a quaint birthday celebration while she performs an intake down the hall. Small talk with the staff forces a secretary to question if she's about to be fired. And yet, there's nothing remotely caricature about Evelyn, either as written by Eisenberg or performed by Moore. Rather, she's a woman, a mother, trying to fill a void she has long ago deemed insurmountable, waiting for Ziggy to evolve enough to see beyond himself. "You were gonna be one of the good guys," she remarks, suggesting she's already decided her son will never amount to more than banal navel gazing. Curiously, it's yet another rich role for Moore from an actor making their debut, comparable to the poignancy of her turn in Joseph Gordon Levitt's Don Jon (2013).

As her counter, Wolfhard has the trickier role as the self-consumed teenager obsessed with his content creation on a TikTok inspired platform, where commodification is forever the end game, even if it's slyly lodged in attention seeking. Multiple interactions with his love interest Lila, played by Alisha Boe, range from cringeworthy to touching. A pseudo replacement for the validation he's no longer receiving at home, we're never quite certain if Ziggy reaches the epiphany he needs concerning Lila's criticism of him.
Eisenberg seems more adept (and less inherently critical) of Evelyn, who dips her toes into an ethical quagmire with the teen boy at the shelter she becomes intensely interested in assisting. It's a less colorful palette than we've already become used to from DP Benjamin Loeb (Mandy; After Yang; Pieces of a Woman), but the film has a shaggy visual groove which works well for the considerable character work from Moore and Wolfhard.
★★★½/☆☆☆☆☆
Reviewed on January 20th (virtually) at the 2022 Sundance Film Festival – Premieres section. 88 mins.