You Can't Go Home Again: Martone's Latest Asserts the Past is a Dangerous Place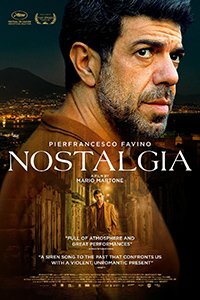 In yet another foray into the teeming possibilities of Naples, Mario Martone directs an adaptation of Ermanno Rea's Nostalgia, published after the author's death in 2016. Less than a year after premiering his The King of Laughter (2021), a biography of Neopolitan comedic theater notable Eduardo Scarpetta and his court case which solidified the legality of parodies, Martone is back in the present in this mournful tale of the past catching up with a man who's been avoiding it for the past four decades.
Initially a gentle exploration of the intoxicating comfort in delving into the carefree days of youth, events take a sinister turn when an inevitable confrontation with the best friend he abandoned gets ugly. Led by the intense Pierfrancesco Favino (who took home the 2020 Volpi Cup in Venice for Best Actor in Padrenostro, and also headlined Bellocchio's exceptional The Traitor in 2019) is in fine form for a gently meandering tale about regrets and consequences.
Martone has remained a perennial favorite in Italy for the past four decades, most often examining the various facets of Naples. While his most well traveled film might be his 1995 Elena Ferrante adaptation, L'amore Molesto, his specific interests in the forces controlling particular sections of the city have been apparent in other recent works, like 2019's The Mayor of Rione Sanita.
Once again, the charms and temptations of La Sanita morph into a character itself as Felice (Favino) makes a planned visit to his elderly mother after a forty year absence. He's dismayed to find has been moved out of their family home and into the bottom floor of an apartment building due to the meddling of Oreste (Tommaso Ragno), who was once his inseparable friend who now runs the most brutal gang in the area, earning the nickname Badman. When his mother unexpectedly dies after he relocates her to a nicer apartment, Felice is suddenly overwhelmed by the need to stay longer. His wife in Cairo, where he owns a successful construction company, seems amused at his relenting to nostalgia, and it's not long before he decides to purchase a home.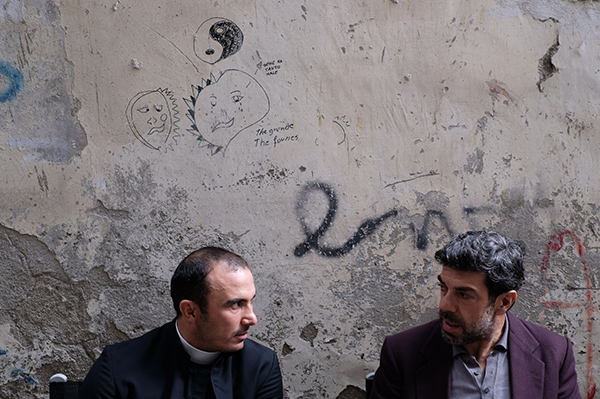 Getting chummy with the local priest, Don Luigi (Franceso Di Leva), Felice confides the traumatic act which forced him to flee Naples forty years prior, involving the murder of a man whose house he was burglarizing with Oreste. Don Luigi is alarmed, claiming Oreste is his number one enemy. Eventually, the priest sees Felice as an excellent redemption story for the community, goading the expatriate into shadowing him on weekly visits as an example to the community of the type of life they could have with hard work and an education. But eventually, Felice is driven to seek out Oreste, who he left behind without ever saying a word. Their interaction is tense, and it's eventually ambiguous about where they stand.
Favino is customarily inviting as a screen presence, having the ability to switch from brooding angst to lighthearted frivolity. Martone doesn't quite navigate these tonal changes as well as his lead actor and eventually the film descends into a familiar genre pattern, where two friends or brothers find themselves on the opposite sides of the law, like James Gray's We Own the Night (2007), Sean Penn's The Indian Runner (1991) and countless others.
When the film finally gets there, and we get a sense of the man Oreste has evolved into (with Ragno resembling 70s era Richard Mulligan), Nostalgia picks up pace after languishing in a few too many cliched sequences with the cornball Don Luigi. Dialogue in the infrequent childhood flashbacks is also subpar ("You're a god!" Oreste is told for his zoom zoom motorcycle skills), but for every detraction, there's usually some element which immediately makes up for it, like the eerie use of the catacombs for a plot detail which builds resonance after the end credits. DP Paolo Carnera (Bad Tales; The White Tiger) makes Naples a pleasantly dispositioned city, while a sometimes wild synth-infused score suggests a more persuasive genre direction in tone might have made this more of a delicious morsel than the dry routines of its first hour.
Reviewed on May 24th at the 2022 Cannes Film Festival – Main Competition. 117 Mins.
★★★/☆☆☆☆☆