Castles in the Sky: Swale Finds Love During Wartime in Likeable Debut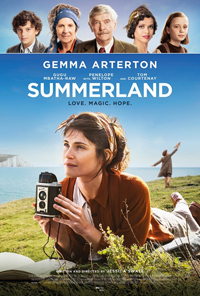 Although it's a somewhat simple and ultimately schmaltzy dose of narrative convenience, Jessica Swale presents a likeable entry in period lesbian recuperation with her debut Summerland, so named for its lead character's description of a utopia floating just beyond our horizon. Another strong lead performance from Gemma Arterton buoys what could have easily become a treacly misfire, commanding a solid portrait of independence and resilience despite the crushing machine of social expectation, especially when the preservations of rigid standards are clung to defensively during wartime.
Swale presents a double period piece, framed by 1975 bookends, wherein Penelope Wilton (of The Best Exotic Marigold Hotel films, here with little to add except her presence) as the elder version of Alice writes her memoirs of a scenario three decades prior, whereupon the narrative re-treats to her same abode on the isle of Kent. While London is being bombed by the Nazis, evacuees from the city are placed with residents on the island, much to Alice's (Gemma Arterton) chagrin.
The mop-headed adolescent Frank (Lucas Bond) is foisted upon her, and the initially cold and imperious Alice is eventually softened by his innocence and charm, worried as he is about his father, a pilot. Heretofore, Alice was the town pariah, deemed a witch by the locals, and the continual vandalism of her home by schoolboys requiring admonishment of the local headmaster (Tom Courtenay, also underutilized), insisting boys indeed will be boys. Flashbacks of Alice's past romance with Vera (Gugu Mbatha-Raw) highlight how her current cynicism was shaped by that relationship, which ended because Vera wanted to have children. In the WWII segment, Alice has consumed herself in studies about historical references to floating islands, such as Fata Morgana, writing her own explication of what these recorded instances really are through her own painstaking maps and comparison of the cliffs of Dover from various cartographers vs. eyewitness accounts of magical castles in the sky. Eventually, a major secret is revealed about Frank, and Alice's life is transformed forever.
Where Summerland really stumbles over itself is with its major twist, when instead it could have spent time on examining the intertwining of racism and homophobia in LGBTQ interracial romances hardly ever delved into, at least with any complex length in film. Still, Arterton, still fresh off another period lesbian romance, Vita & Virginia (2018), which examined the affair of Virginia Woolf and Vita Sackville-West, brings the right balance of sympathy and nerves of steel which allows Alice to seem refreshing and empathetic.
While the remainder of the cast has little to do, besides a likeable Lucas Bond, it's too bad Swale's narrative couldn't match the intensity evoked by the dialogue – "Your heart will break, your friends will die. What matters is how you deal with it," the no-nonsense Alice tells young Frank.
For lovers of English period film, both Arterton and Mbatha-Raw have recently starred in some stellar examples of this, Their Finest (2016) and Belle (2013), respectively. Summerland is sweet, likeable, and an altogether solid first feature, and while it might not come close to something like Portrait of a Lady on Fire (2019), it's a welcome entry to the restorative and recuperative representation of queer lives long unexamined.
★★½/☆☆☆☆☆