Guilt by Dissociation: Fukada Explores the Burden of Others in Exemplary Melodrama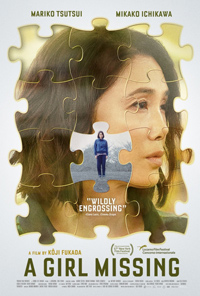 Director Kôji Fukada presents a melodrama hung on absurdity for his fourth feature, A Girl Missing, another Dostoevskyian tale collapsing the lines between crime and punishment into a complex grey area of juxtaposing social norms and self-serving desires. Reuniting with his Harmonium (2016) lead Mariko Tsutsui, Fukada creates another emotionally palpable tale about perspective. The original Japanese title, Yokogao, means "side profile," and as we come to learn, each angle of this unique melodrama arrives with deep-seated complexities, including that of its protagonist, an affable healthcare worker whose relationship to both the perpetrator and the victim in a crime which sparks significant media attention places her in a catch-22 situation. Expertly acted and with a dual-pronged narrative as equally well choreographed, Fukada presents an upsetting situation in which his heroine is, aggravatingly, partially to blame for her fall from grace.
Ichiko (Tsutsui) works as a private nurse for a family she has become a vibrant member of in the Chiba prefecture. Though she's hired to care for the ailing matriarch, Ichiko has grown close to the woman's two granddaughters, particularly the eldest, Motoko (Mikako Ichikawa). Engaged to an older doctor (Mitsuru Fukikoshi), whose son she plans to adopt as her own, Ichiko also is seemingly wrapped up in a dalliance with a handsome younger hair stylist, Kazumichi (Sosuke Ikematsu). When Motoko's younger sister is kidnapped, their host family is thrown into turmoil. The girl is discovered days later, possibly raped. Watching the news, Ichiko recognizes the perpetrator was her nephew (Ren Sudo), who met the young girl after seeing her with his mother and aunt during an innocuous luncheon. Ravaged with guilt, Ichiko weighs telling the family only to be dissuaded by Motoko, who has grown attached to the nurse and voices her designs to move into an apartment with her while following a similar career trajectory. Ichiko, with no one else to turn to, reveals intimate details about her nephew. When Motoko learns of the nurse's impending marriage to a man above her class, the young woman does everything she can to sabotage the nurse's happiness.

With A Girl Missing, Fukada earns comparison to a contemporaneous Kenji Mizoguchi, and Ichiko's burdens and social downfall recalls the trials of Kinuyo Tanaka in the classic The Story of Oharu (1952), in which a woman who dares to love above her station becomes exiled into prostitution. The degradation of Ichiko may not be as dramatic, but her public trauma certainly warps her irredeemably. In the lead role, Mariko Tsutsui is captivating as the well-intentioned Ichiko, with a well-moderated performance of fluctuating subtleties which eventually bubble up into moments of desperation driven hysteria. Fukada builds the films to several symbolic crescendos, beginning with a disturbing dream of Ichiko's, inspired by a neighbor's barking dog, wherein she imagines crawling around the neighborhood as a quadruped. Later, she's brought to the brink of madness, boiling over into a primal scream, and beautifully repeated with a potential instrument of destruction through the pealing squeal of a car horn.
Fukada similarly enjoys keeping us guessing about the simultaneous storylines involving a handsome, younger hair stylist, which the narrative sometimes dips into when the strain of her nephew's deeds become too much to bear—the choice to cut away at these moments seems a discreet way to plumb flashbacks in Ichiko's psyche, either as fantasy or happier times. Eventually, however, we realize these moments are actually occurring shortly after her demise, and revealed to be an elaborate plan of kitchen-sink retribution (and not too far removed from the shockingly intimate vengeance in Andrea Arnold's Red Road, 2006).
While one could make suppositions about Ichiko's plight as being a result of culturally specific dynamics, the social responses to the situation feel much more universal. Take for instance how the parents of children who commit devastating acts of violence are handled in Western culture, like the mother figures of Tilda Swinton in Lynne Ramsay's We Need to Talk About Kevin (2011) or Maria Bello in Shawn Ku's Beautiful Boy (2010)—there's a price to pay for the sins of their children (and in Fukada's film, Tetsuo's mother succumbs to a drug overdose). But beyond having to apologize for the actions of others, Ichiko suffers the consequences of her own actions for not doing the right thing. Foolishly, she maintains an unbalanced bond with Motoko, a teenager who proves to have some unanticipated emotional issues and responses to Ichiko.
Intersections of class and social status define the parameters of Ichiko's predicament, and Fukada simultaneously projects her as a tragic heroine and vengeful antagonist (the opening sequence comes back to haunt us, as we realize the memories she relays to the hair stylist are figments of the life that could have been). Inextricably, she becomes tied to her nephew thanks to one unfortunate moment in time linking them. The film's final act presents her as the shell of a woman she once was, and a descent into the sea (like an inverse of Fukada's plot mechanism in 2018's The Man from the Sea) is a metaphor for the anonymity she seeks in Tokyo—in essence, Ichiko is A Girl Missing, as her naivete and innocence allowed her to be backed into a corner from which she could never escape…at least not with the privilege of the same identity.
Reviewed on August 12th at the 2019 Locarno Film Festival – International Competition. 111 Mins.
★★★★/☆☆☆☆☆