The Worst Person In The World | Review
Sometimes She Loved Them Too: Trier Formulates Winning Composite of Love and Self Discovery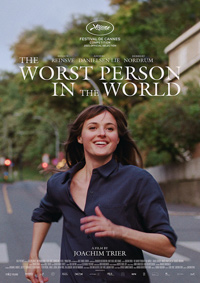 For his fifth film, The Worst Person in the World, Norway's Joachim Trier returns to the vibrant energy which graced his forlorn protagonists in Reprise and Oslo, August 31st in a "twelve chapter (plus prologue and epilogue") odyssey of one young woman's navigation to self-discovery. On paper, its conceit sounds like countless other romcom inclined narratives, contemporary and otherwise, but Trier, with his trusted scribe Eskil Vogt, manages something which feels unique and transportive in an effortless showcase of four years in the life of a young woman still deciding what she wants to do and who she wants to be. Funny, poignant, and eventually bittersweet, authentically staged asides and a winning, complex performance from Renate Reinsve makes this a thoroughly unexpected offering from Trier.
Through our initial narrated montage on Julie through the film's prologue, she's introduced as an intelligent but fickle dilettante, unable to settle on what vocation she'll pursue, or what man she's willing to entertain. Breathlessly collapsing youthful epiphanies, her interests in photography ushers her into the exciting nightlife of Oslo's creatives, and there she meets the dapper Aksel (Anders Danielsen Lie, Trier's favored on screen persona, reuniting with Reinsve from Oslo, August 31st).
Beyond his personality, he's alluring as an underground cult figure having authored a comic series about a horny Bobcat, and despite their age difference, they move in together. The usual conflicts arise out of their intergenerational rift (his friend set have kids and play croquet), and Julie eventually strays into the age appropriate arms of Eivind (Herbert Nordrum), equally appealing but also as adrift in late twenties malaise as she is. More complications ensue, forcing Julie to finally be realistic about what her life should be like.
Initially, Trier's narrative has the feel of Woody Allen in Oslo, an idiosyncratic ingenue frankly exploring sex and social liberations. Vogt's script manages to maintain an eloquent yet unconceited air of various conversations, exchanges which are smart without feeling exaggerated. Although not all segments are as effervescent as the sum of its parts, some standouts include a magical flirtation with Einvind at a wedding reception Julie crashes, a hallucinatory mushroom sequence (which might not feel entirely necessary but it's a lot of fun), and a handful of moments featuring Lie, in his best role since Trier's early work. However, this is Reinsve's vehicle through and through, with a screen presence reminiscent of Dakota Johnson or Katie Lyn Sheil. Even as we get to know her, she remains intriguing and eventually a fully fleshed persona who presents a character worthy of more chapters.
Trier's last film, 2017's Thelma, similarly explored the female psyche and sexuality through a genre lens (similar to Stephen King's Carrie). But Trier and Vogt seem most comfortable and easygoing in the vein of everyday people experiencing the subtle ups and downs of everyday life. Unlike his English language debut, 2015's Louder Than Bombs, which dealt with a family in the wake of tragedy, Trier also feels better served portraying characters trying to navigate the mundane, often with extraordinary results. Although shades of 500 Days of Summer (2009), or, more particularly, Take This Waltz (2011) might feel immediately evident, The Worst Person in the World feels more comprehensive, more formidable in its complexities than many contemporaries—it's a hard won feat to seamlessly capture the difficulty of getting what you thought you wanted only to realize it's not what you want or need. Denmark's Kasper Tuxen (Riders of Justice, 2020) serves as DP, presenting a lively portrait of Oslo, teeming with energy and possibility.
Reviewed on July 8th at the 2021 Cannes Film Festival – Main Competition. 121 Mins
★★★★/☆☆☆☆☆