Slaughter House Rules: Franco Continues with Cinema of Distress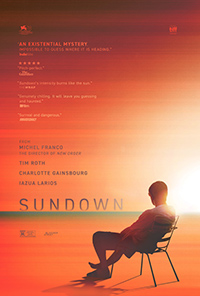 The English playwright Robert Bolt wrote "Death comes for us all. Even for kings he comes." Such seems to be the recurring theme of Michel Franco's filmography, at least threaded through his seventh feature, Sundown, an exercise in keeping with the director's penchant for shock value. The punishment of the aristocracy, or at least the pillaging of the privileged, remains paramount in this deliberation which at least suggests we question how we invest our sympathies.
Although a low-key arthouse affair, at least in comparison to some of Franco's increasingly elaborate productions, such as last year's grueling New Order (read review), top notch lead performances from Tim Roth and Charlotte Gainsbourg assist in keeping this discomforting elegy on a constant simmer. Despite its simplicity, Franco's subtexts on elitism and karmic retribution bolster the narrative significantly, once again proving his ability to disgruntle and unnerve.

An affluent British family goes on vacation in Acapulco. Their swank resort seems to be a much needed getaway for Neil (Tim Roth), Alice (Charlotte Gainsbourg), and two teenagers (James Tarpey, Albertine Kotting McMillan). We make assumptions about how they're related, but more will be revealed about how later. Their vacation is swiftly interrupted by a phone call from London, where Alice has learned her mother has been rushed to the hospital. Panicked, they make their way to the airport, but Neil doesn't have his passport. Left to his own devices, Neil checks into an unassuming hotel (run by Franco regular Monica Del Carmen), having had his passport all along. As he proceeds to enjoy himself despite Alice's constant phone calls, Neil begins a sexual liaison with local woman Bernice (Iazua Larios). It's not long before Alice shows up with their lawyer (Henry Goodman), flabbergasted at Neil's behavior. As we learn the nature of their relationship, it also appears they are quite wealthy, and Neil signs over his family shares of the fortune to Alice, inheritors of a slaughterhouse empire. And then, an act of violence changes everything.
If there's any real gripe to be had with Sundown, it's how Franco ostensibly let's Neil off the hook by confirming a few too many details about his "condition," alluded to several times throughout. While this creates a sense of fated doom, bolstered by Neil increasing visions of pigs, slaughtered and otherwise, it creates an easy excuse for his shockingly disrespectful behavior. More ambiguity would have underlined an eeriness about what's going on, especially as Franco so playfully takes his time confirming the relationship of his privileged family.
Little by little, as more details are revealed, Sundown exists in Franco's favored nexus of forcing his audience to question conditioned allegiances. Initially, a perfectly 'normal' family is granted not only a complex layer of elitism, but they also ensure a dynasty of ecological toxicity. Instead, Franco's more powerful moments exist in seemingly banal visualizations. The opening sequence finds Roth peering at a bunch of fish, gasping their last breaths, their scales glistening in the sun. We return to the fish imagery later, a carcass drying on a plate. It's Neil contemplating his mortality, facing the end of his life cycle.
Of course, in true Franco fashion, we're treated to shocking moments of extreme violence. A man hops off a boat to shoot someone on a sunny afternoon beach, which predicates the most intense moment involving a group of would-be kidnappers attempting to take Alice.
Although the production otherwise seems spare, Franco's DP Yves Cape creates yet another troubled, sun dappled paradise. Returning to work with Roth, who headlined his 2015 film Chronic (a title which could easily fit this film), the actor-director pair seem well-attuned to the brittle banality of despair. Gainsbourg is an equal bright spot, a woman anguished and receiving our empathy, until, after a detrimental moment, we learn more of her life and identity.
It's Franco asking us to question our automatic allegiance or definition of what constitutes a good person. Who matters most? Who is deserving of life, or to be more clear, a "good" life? By the time the credits roll, it's Iazua Larios as Bernice, a shopkeeper attaching herself to Neil (perhaps in anticipation of better opportunities) who deserves our attention . As usual, it's Franco pushing into provocation, though by now in expected ways. While not perfunctory, the rigid constructions unveiled by third act inevitabilities suggest the possibility of more potent interpretations.
Reviewed on September 5th at the 2021 Venice Film Festival – Main Competition. 83 Mins
★★★½/☆☆☆☆☆