Barb and Star Go to Vista Del Mar [Video Review]
The Florida Project: Wiig & Mumolo Wax Weird and Wacky in Bizarro Comedy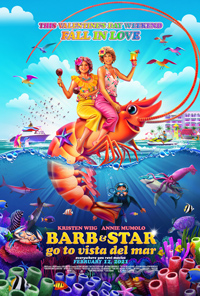 While we've grown accustomed to normalizing predictability in mainstream comedies, there's still room for surprise and effervescence, at least judging from Barb and Star Go to Vista Del Mar, reuniting actors and scribes Kristen Wiig and Annie Mumolo, who penned the 2011 hit Bridesmaids.
Initially unfolding in the vein of a familiar SNL themed skit harpooning Midwestern attitudes and accents a la the Coen Bros., Josh Greenbaum's narrative debut eventually takes a dive into the sublimely strange, like an edible kicking in just when you suspected it wasn't nearly potent enough. A candy-coated mixture of gonzo musical numbers, fascinating cameos and a comic book inspired villain, it plays like some forgotten 80s time capsule where all the odd elements somehow work.
Best friends Barb (Mumolo) and Star (Wiig) have never left their small-town Nebraskan clime. They've depended on each other for everything since Barb's husband died and Star's spouse left her for another woman, but when they're laid off at work and kicked out of their rigid social club, a tip from an old friend (Wendi McLendon-Covey) brings the duo on their first vacation, to the sun dappled Floridian coastal resort town Vista Del Mar. Not everything goes according to plan, as both women fall for the handsome Edgar (Jamie Dornan), who is in the town on an insidious mission for the vengeful woman he works for, Dr. Lady (also Wiig), who wishes to ruin the residents of the city due to a traumatic incident she experienced as a teenager. But Edgar finds himself drawn to Star while Barb begins to break out of her shell. Dr. Lady's having none of it, and refuses to allow this ill-timed romance to ruin her murderous plot to unleash genetically modified mosquitoes on Vista Del Mar during its annual Shrimp Jam.
Shot by Toby Oliver (Get Out, 2017), Barb and Star is a brightly lit Floridian fantasy with a narrative as light as gossamer. In truth, it's entirely predictable given the nonsensical set-up and begins on a note which suggests it's doomed to fail. But Mumolo and Wiig feel effortless in their ability to laugh at themselves while also caring for the closed off women they're playing. Their downy, feathered hair and exaggerated accents might grate, but they settle into a silly groove, aided by Jamie Dornan (who's never seemed to be having as much fun as he does here) as the lovelorn Edgar.
Wiig's evil alter ego, Dr. Lady, who looks like a Tim Burton villain mixed with something from Zoolander (Will Ferrell and Adam McKay serve as producers, which might mislead some into what they'd expect from the material) has her own moments with sidekick Yoyo (Reyn Doi, opening the film with a fun lip synch to "Guilty" by Barbra Streisand and Barry Gibb).
An impressive array of talent is at the narrative's disposal, each with their own dash of energy (only Damon Wayans Jr. as the blundering Darlie Bunkle feels a bit underutilized). If you like your innuendo sweet and weird with a dash of obvious emotional manipulation, you'll likely crush hard on Barb and Star Go to Vista Del Mar.
★★★½/☆☆☆☆☆