The World to Come | Review
Pitch Rider to Perdition: Fastvold Fans Flames of Forbidden Desire in Masterful Period Drama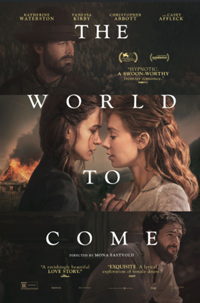 Few and far between are cinematic narratives which attempt to, much less accomplish, desire melded with interiority from a woman's perspective. Director Mona Fastvold delivers an exceptional anomaly with her sophomore film The World to Come, a period piece which blazes with fierce intelligence and intention as much as it waxes poetically before dangling precariously into despair.
Penned by novelists Jim Shepard and Ron Hansen (who wrote the screenplay for Andrew Dominik's anti-Western The Assassination of Jesse James by the Coward Robert Ford, 2007), it's a film which channels the energies of D.H. Lawrence's sterling prose, and the tagline for the 1969 Ken Russell adaptation of Women in Love could easily be slapped on the marketing materials for Fastvold's film, though, as we find, it would have more sinister implications – "The relationship between four sensuous people is limited: they must find a new way."
It's the first day of the new year in 1856 upstate New York. Abigail (Katherine Waterston) awakens to an especially chilly day, the first time this season in which ice has crept inside the house. The days seem especially somber for her, the wife of Dyer (Casey Affleck), who runs a rural farm by himself, even though this is not the life either had envisioned. It appears they lost their only child to diphtheria the autumn before, a tragedy which has forced Abigail to retreat into herself and even farther away from a husband she never quite loved in the first place. Suddenly, a new couple arrives to rent the neighboring farm, Finney (Christopher Abbott) and his wife Tallie (Vanessa Kirby), who are also childless. Whereas Abigail is wan and withdrawn, Tallie is aglow with the dew of great expectations. Slowly, the two women form a bond, which blossoms into an intense desire, with which their husbands respond to negatively, each in his own way.

Fastvold's first feature The Sleepwalker (2014) also presented a quartet wherein the women from both heterosexual couples are metaphorically absorbing one another in the vein of Ingmar Bergman. After penning Brady Corbet's first two features (The Childhood of a Leader and Vox Lux), Fastvold returns to the same fascinating dynamic, this time recalibrating from the familial to the sexual.
If Lawrence and all his sexually liberated females, from Gudrun to Lady Chatterley, are a potential template or comparative point of interest, Fastvold's terrain taps into the gender and sexual hierarchies explored in his menacing novella The Fox—and like the underrated 1967 Mark Rydell adaptation of a lesbian relationship interrupted by a male interloper, one can feel the all-encompassing, defining environment which determines the ability of its characters. Like The Fox, one can feel the breathtaking snap of winter, the menace of a storm and the eventual spring thaw. It is, at times, a film which evokes tangible responses, as if one could feel the temperature and smell the dank wood and crackling fires.
Katherine Waterston, whose breakthrough as Paul Thomas Anderson's Inherent Vice (2014), bests herself with this insular, throbbing performance as Abigail. The openness of her narration, taken from the eloquent stylings of her own private writings, relays quite beautifully the ocean of untapped desires and tarnished dreams stymied by a relationship with a man born more of survival than anything else. In The Fox, the passage "for she was a creature of odd whims and unsatisfied tendencies" seems to aptly describe the tortured existence of Abigail.
Conversely, the husky-voiced, flame-haired Vanessa Kirby seems almost an impossible fantasy. Headstrong, quick-witted and formidably articulate, the initial shared glance between the women is pregnant with possibility, and while the inescapable menace of their romance remains an omnipresent shroud, it is, at times, kept discreetly at bay until the inevitable shoe drops thanks to both women neglecting their 'wifely duties.'
Filled with jaunty, brilliantly hewn exchanges, and shot with a soft, often grainy palette by Andre Chemetoff (who lensed Jeanne Balibar's Wonder in the Suburbs, 2019), The World to Come creates an intoxicating atmosphere, commanded from start to finish by its elegantly fashioned, hopelessly bereft heroine. If Casey Affleck and Christopher Abbott (who was also part of the troubled couples in The Sleepwalker) aren't as prominent, they're used effectively as numbed laborers unwilling or unable to set aside their own preoccupations to ever truly consider the needs or desires of their wives (take, for instance, an early sequence where Abigail expresses the desire to purchase an atlas from her own savings to broaden her horizons and provide small escapisms for her mind—he suggests his wife should instead use such frivolity to buy her husband a gift).
If all four members of the principal cast are arguably a bit too attractive to suggest the draining, treacherous reality of the period, they each channel the appropriate energy of repressed desires and spurned advances which only heighten their intensity and attractiveness (and again, one only need recall Russell's take on Lawrence, an equally handsome group of 'four sensuous people'). Reminiscent of the way Altman fashioned McCabe & Mrs. Miller (1971) as a way to de-romanticize our recuperations of the past and instead present an environment which was hellacious drudgery, The World to Come suggests something poetic but sinister in its final frames, one of many innocent exchanges which holds multiple interpretations, leaving us with the a quip when one lover beckons another to remember "our imaginations can always be cultivated."
Reviewed virtually on September 6th at the 2020 Venice Film Festival. Main Competition – 98 Mins
★★★★/☆☆☆☆☆