Jurassic World: Fallen Kingdom | Review
Thy Will Be Done: Bayona Burps a Blip in the Ongoing Dinosaur Franchise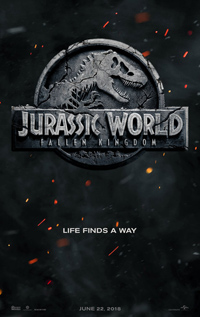 Looking back, Steven Spielberg and Michael Crichton had already marred the magic of 1993's Jurassic Park by the time they embarked on franchise territory with 1997's The Lost World, which suffered from all the hallmarks of a subpar sequel re-hashing its director's prized family-in-peril formula. Fast forward past Joe Johnston's Jurassic Park III (2001) to Colin Trevorrow's 2015 box-office juggernaut Jurassic World, where we get a contemporary rehash of 1993's theme park, we're led directly into, you guessed it, dinosaurs languishing on a desolate island off the coast of Costa Rica in Jurassic World: Fallen Kingdom. Spanish director J.A. Bayona, recently off his UK set children's parable A Monster Calls (2016) gets to helm what might be the laziest franchise addition to date. Reuniting the oil and water chemistry of Chris Pratt and Bryce Dallas Howard for an ill-fitted adventure wherein they are brought along to save their cloned lizard pals from imminent re-extinction thanks to an active volcano on their island (which further makes last episode's theme park even more insipid) their naïveté is manipulated to further the insidious designs of greedy men desiring to secretly auction off surviving beasts to bored one-percenters and international war mongers.
Three years after the demise of Jurassic World, the dinosaurs who have remained trapped within the confines of the theme park are now facing extinction due to an active volcano threatening to consume the island in its entirety. As ex-park executive Claire Dearing (Howard) heads up a protest group desiring to save the creatures, Congress votes to abstain from saving them (thanks in part to expert testimony from Jeff Goldblum's Ian Malcolm, on hand for witty epithets predicting the destruction of mankind). When Claire is contacted by Ian Mills (Rafe Spall), who works at the behest of Benjamin Lockwood (James Cromwell), a wealthy but unhealthy magnate who was the contemporary of the original park creator Hammond, she is given the opportunity to assist in transporting as many species as they can to a nearby isolated island. However, Claire is expected to reign in Owen Grady (Pratt), her ex-boyfriend, and the only person who can potentially help them wrangle Blue, the raptor he raised from birth and one of the most intelligent creatures on the planet. However, during their rescue mission, best plans go awry.
Trevorrow and his favored co-writer Derek Connolly deliver a rather un-inspired continuation of the progression of the dinosaurs and their endlessly stagnant journey, so much so they make the re-booted Planet of the Apes properties play like brilliant socio-political pulp manifestos (and the disastrous shadow of Trevorrow's The Book of Henry still looms large as an indicator of taste and unhinged egotism). To be fair, some of their more daring attempts at contemporaneity (such as writing Daniella Pineda's paleo veterinarian as a lesbian) seem to have been left on the cutting room floor, but even these minor kind of flourishes at inclusivity (why can't the split between Howard and Pratt have transpired due to something a bit more complex than his unwillingness to live in a house?) are so extraneous regarding such a minor character it reeks of unabashed queer baiting. Other elements, such as uniting Ted Levine's gruff military man with Trumpism, however fitting, is another easy grab at topicality because the material is never sophisticated enough to exemplify this, so the screenplay resorts to blurting out its stances abruptly and casually.
While Bayona's penchant for visual artifice is in full-force, including a handful of minorly tense chase sequences, his signature gets a bit lost in this jungle of jarring tangents. At the very least, it's a pleasure to see Geraldine Chaplin, who has appeared in minor supporting roles in Bayona's previous three features, existing quite naturally in the middle of this mainstream milieu. Likewise, the use of other noted thespians populating the periphery adds a little of unexpected pizzazz, from James Cromwell's rich, old codger (stepping in for the Richard Attenborough figure, the white, patriarchal 'keys to the kingdom' catalyzer) and a campy Toby Jones as a villainous elitist.
Howard's ridiculous wardrobe choices from Trevorrow's film (i.e., running from a T-rex in high-heels) result in our first tongue-in-cheek visual signifier of her character, but any real attempt at characterization ends there, despite a significant softening of the aggressive, unabashed brashness which defined her previously. Pratt, on the other hand, has little to besides his attempt to inject withering sarcasm whenever he can (which isn't often). The result is a watering down of whatever strengths they were able to convey in the previous film, with Howard a pale reflection of the fierce, intelligent woman she was previously and Pratt the once clownish everyman responsible for making everyone swoon at his combination of uniqueness, nerve, and Dr. Doolittle talent.
The weirdest, and therefore the most interesting plot twist, which isn't presented with any kind of graceful subtlety, is also confirmed in a late-staged litany of exposition from Rafe Spall's maniacal money hound, just in case anyone was incapable of connecting the dots. This sets the stage for some laugh-out-loud cornball flourishes for the routine climax, which recycles the same 'new' elements from the last film (instead of a hybrid T-rex we get the same treatment on enhanced breed of velociraptor this time).
For those who simply wish to remain limply agog at the significant special effects elements of all the dinosaurs of the Jurassic universe, Bayona's treatment may satisfy. But for any tired of a recycled packaging which assumes audiences cannot be elevated beyond the wonderstruck consumption of ignorant children, franchise progenitors are going to eventually be forced to re-discover the necessity of characterization, narrative, and dramatic tension which enhanced the original wave of event cinema giants which continue to define contemporary properties.
★★/☆☆☆☆☆