Doctor Strange: Triet Gets Tricky with Autofiction Affair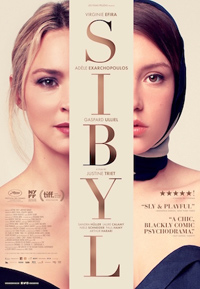 Reuniting with Virginie Efira, the lead from her 2016 sophomore breakout Victoria (aka In Bed with Victoria), director Justine Triet presents a woman with significant boundary issues in her pursuit for professional fulfillment with Sibyl. Blurred lines are part and parcel here in an oddly toned comedy/drama which borrows, of course, the name of the infamous 1973 Flora Rheta Schreiber study on a troubled young woman diagnosed with multiple personalities.
While Triet's protagonist doesn't suffer the same, it's instead a woman in the existential throes of redefining her life as she attempts to leave behind her role as a psychotherapist to work full time on a novel, the career she desired a decade prior. Triet deposits Efira amid a glossy cast of notable supporting actors in a situation which could easily have stumbled into screwball comedy. Curiously, unlike its increasingly unhinged lead, this all plays out in numbingly, stone-cold sober affair.
Sibyl (Efira) decides to pursue her initial passion as a writer and abandon her practice as a psychotherapist after ten years. Just as she begins unloading her patients, however, a distressed young actress, Margot (Adèle Exarchopoulos) reaches out to her. In the midst of filming a movie which is destined to be her breakout, Margot finds herself pregnant by the leading man (Gaspard Ulliel), who is married to the film's director (Sandra Hüller). Sibyl immediately recognizes the potential of using Margot's predicament for her novel, and begins to record their sessions without the young woman knowing. Quickly, this obsession turns into something unprofessional, which eventually forces her to accompany Margot on set. Meanwhile, the relationship is beginning to take a detrimental toll on Sibyl, who is beginning to recall a similar dysfunctional relationship from her past. As she begins to lose her grip, she returns to dangerous habits.

Sibyl opens with a comic conversation in a restaurant wherein she's informed by a publisher it's an unlucrative market for novelists—she should have stuck to her initial passion instead of becoming a clinician, she's told. Immediately, it seems to establish a tone akin to Olivier Assayas' Non-Fiction, a loquacious comedy comprised wholly within France's publishing industry. Triet starts here then veers into something weirder, something with more of an identity issue. We glean bits and pieces of Sybil's past, her memories triggered in her obsessive fixation on Exarchopoulos' Margot. It would appear the younger woman's dysfunctional romance with her married co-star (Ulliel, again seemingly hired for his looks) featured a lot of similarities to her own past disastrous relationship, wherein she was abandoned by the father of her child and began a decade long journey of self-recovery.
All of these complexities bode well for something interesting and bizarre, even though it doesn't land as smoothly as the initial ascent (one wishes the scenario could have been mined for its Hitchcockian elements). Efira navigates this well enough, even in moments where the narrative could have had her engaged in something less typical—for instance, we could have used more time with Paul Hamy's empathetic current boyfriend and less of Niels Schneider's callous wild-child. Distress and dysfunction can be quickly and easily portrayed—stability requires a little more sussing out. Additionally, Sibyl's increasingly wacky treatment for Exarchopoulous, whose performance is a little all over the place, finds Efira's presence diminished within this strangeness when her presence and role on a Stromboli film shoot could have been unforgettably comic. At the same time, Triet deserves some credit for what she does with Sandra Hüller as a director on her way to a nervous breakdown—every sequence featuring the German actress lands with a sizzle the rest of the feature often doesn't exude. Laure Calamy, as Efira's sister, is also used for comedic relief but less successfully.
Pillaging the lives and experiences of others, especially if you're treating them professionally, is, of course, a transgression. Countless authors have dabbled in this technique, often to their own ruinous detriment (Truman Capote, etc.). Sibyl is often interesting, but too glossy, too well-mannered in what plays like the suicidal, alcoholic cousin to Sebastián Lelio's Gloria (2013)/Gloria Bell (2018). Efira, however, concocts a performance which is surprisingly grotesque during certain moments—and should she continue to work with Triet, one could see the possibility for something darker and more unhinged.
Reviewed on May 24th at the 2019 Cannes Film Festival – Main Competition. 100 Minutes.
★★/☆☆☆☆☆