Les meutes (Hounds) | 2023 Cannes Film Festival Review
Wash Away Your Sins: The Apple Falls a Bit Further Out From the Tree in Lazraq's Stunning Debut
Father and son learn the power of leverage and find themselves on a crash course on how to make friends and influence others in the quixotically fuelled new piece of cinema with Maghreb roots. Working from an assured, austerely-steered screenplay, Moroccan filmmaker Kamal Lazraq nourishes this tightly-paced oeuvre with a melange of mystery, likeable leads of head-shaking stupidity and the overall sense of dread and a full-on willingness to merge the comical with extremely dark detours in Les meutes (Hounds). Think the slowly-cooked stew of a No Country for Old Men but with the chase element being the hourglass, the unfriendly, hostile Cabablanca outskirts and the promise of sunrise being the ultimate threat, there are plenty of pathos and payoffs in Lazraq's feature debut.
Beginning as an oxymoron (how does one care for his dog when you use the same pet in a dog fight) the film's title refers to two-legged packs instead of the four-legged friends. What treads into a full-length narrative about a very special cargo delivery gone wrong, this is about cancelling choices one makes and wishing that the next encounter with a stranger is a faithful one and not, a fateful one. Set in and around a non-touristy Casablanca, murky, underground and unfortunately out in the open leaving a vulnerable Hassan and Issam in a situation that even Pulp Fiction's The Wolf character might not be able to solve. As the pair navigate the night and encounter a series of misfortunes that get timed out by luck, it is here that the two understand that the power is in the art of negation is best practiced between each other before the forces that surround them.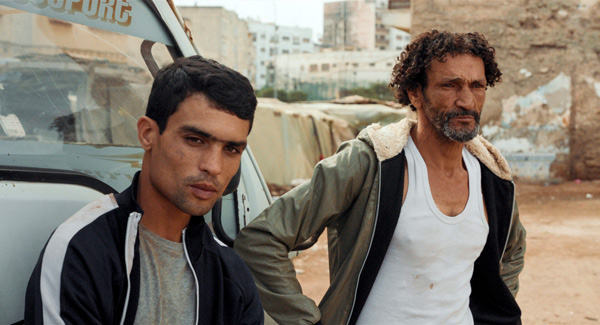 Quickly trading day for night, Lazraq works in a nocturnal world and with the pockets of society that differ drastically from those who are well-off. There might not be a narrative thread to Lazraq's 2014 short "The Man With a Dog," but there is a likely connection in terms of man's loyalty to the pooch and an overall sense of desperation. Ayoub Elaid gives his Issam – a mostly mum, young, hard-working generation (not aimless, or hopeless but trying to walk a straight line in a world of zigzags) a sort of resilience while the weary-looking Abdellatif Masstouri who is not only out of options but never had much of a chance or choice has a bullish confidence despite his lack of education. While their lack of collective know-how is certainly an Achilles' heel for the pairing, it's their wit and combined street-smarts that straightens out their fate.
There is a satisfying quality to Les meutes where those concerned will have to put in the mental arm grease and where we know there won't be a comforting soft spot to land and when Lazraq does use fantasy – it's more punctuated by how auds might relate to their dilemma. The Unknown Saint cinematographer Amine Berrada (who also works with Ramata-Toulaye Sy) works in some beautiful butterscotch yellows in what happens to be a fun film to look at. With tight pacing and not one wasted sequence, Lazraq offers one of the better non-kidnapping thrillers in recent cinema and taps into this pass-me-down complex that hardly gets addressed.
Reviewed on May 19th at the 2023 Cannes Film Festival – Un Certain Regard. 94 Mins.
★★★½/☆☆☆☆☆