Life After Wartime: Balagov Crafts Exemplary Portrait of Post-WWII Role of Women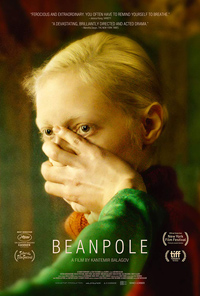 In the words of Plato, "Only the dead have seen the end of war." Such seems the case for the survivors left to pick-up the pieces in 1945 Leningrad during the first autumn after the end of WWII in Kantemir Balagov's strikingly astute sophomore feature, Beanpole. Following two years on the heels of an equally impressive debut, 2017's Closeness (which detailed a heinous kidnapping in late 90's Nalchik, from whence he is from), Balagov goes further into the past to examine the lives and friendship of two Russian women struggling to move forward during the construction of Leningrad, which suffered one of worst sieges in history. Based loosely on Nobel Laureate Svetlana Alexievich's book The Unwomanly Faces of War, Balagov co-wrote with scribe Aleksandr Terekhov (of Aleksey Uchitel's 2017 Mathilde) a formidable psychological portrait of two women matched by the aching ferocity of two superb cinematic debuts from leads Viktoria Miroshnichenko and Vasilisa Perelygina.
Many of the more popular international cinema dealing with the reconstruction period of post-WWII tends to center on the rise of survivors (usually male protagonists) through the rubble of Germany—but two unforgettable Nina Hoss performances come to mind dealing specifically with this time and location in 2008's Anonyma and 2014's Phoenix.
Balagov grasps the mantle of his Russian predecessors with Beanpole, a haunting, visually striking depiction of women's roles during reconstruction. Miroshnichenko is galvanizing as Iya, her nickname the titular period slang to describe her gangly frame (which is treated to a much more graceful comparison in the French subtitle translation as La Girafe). Suffering from debilitating spasms diagnosed as "post-concussion syndrome," which would later come to be recognized as PTSD, Iya is a broken soul working as a nurse in a Leningrad hospital.
Having developed a warm relationship with her superior, Iya is designated as a literal Angel of Death, secretly assisting in euthanizing patients who will not recover from their wartime wounds, desiring to die. Likewise, the first act's supreme tragedy involves the accidental death of the child, Pashka (Timofey Glazkov), who we initially assume belongs to Iya. Suddenly, Masha (Perelygina) arrives, the mother of the child who entrusted her son to her best friend so she could stay behind on the front lines and avenge the death of the child's father. Upon learning of Pashka's death, her reaction is to go out dancing, the rationale being she needs to work on having another baby. In Masha's mind, a child will allow her to heal from the trauma inflicted by the war. However, it seems Masha's internal scars have left her sterile—and so Iya is tasked with producing the salve which will assuage their passage to a brighter future.
Both Iya and Masha are color coded as red and green (colors representing rebirth and wounds/war), designs which complement one another, begin to infiltrate, and eventually shift between the women as their vulnerabilities and resiliencies fluctuates. As the title indicates, Iya's height (note, her name means violet in Greek, a color which requires two primaries to mix together) hints at Balagov's subtexts regarding reconstruction, specifically women's bodies and how they are allowed to move about in space or claim agency. Iya's ungainliness paints her as the beautiful swan who was never able to realize she was no longer an ugly duckling.
Beautifully textured cinematography from Kseniya Sereda captures a tremendously vibrant color palette of these period interiors, flanked by the less colorful but grainy exteriors of a bedraggled but bustling Leningrad (where a near-Anna Karenina moment occurs). Balagov concocts a third tremendous debut from Ksenia Kutepova, a remnant of a downgraded oligarchy whose son desires to marry Masha—Kutepova walks away with one of the film's best moments as she highlights the underbelly of the façade afforded privileged woman (also of note, Olga Dragunova of Closeness appears in a minor role as a surly seamstress).
Balagov pointedly avoids any direct mention of Stalin or Lenin, whose visual representations are also absent from Beanpole. However, his film channels the energies of some of Russia's greatest filmmakers, with a mise en scene recalling Aleksey German's classic My Friend, Ivan Lapshin (1985), which depicts the effects of Stalin's 1930s purge on a small town in Russia. However, Beanpole plays like a sister film to Larisa Shepitko's underrated and unforgettable 1966 film Wings, wherein a female ex-fighter pilot cum school teacher cannot find meaning in her life during peace time. Tragic, hopeful and subversive (the film paints a complex portrait of friendship and sexuality which would have been impossible to make in Russia), Beanpole confirms Balagov's stature as a major contemporary filmmaker.
Reviewed on May 16th at the 2019 Cannes Film Festival – Un Certain Regard, 130 Minutes.
★★★★/☆☆☆☆☆