Viva La Vache: Reichardt Paints A Surprising Portrait Of Friendship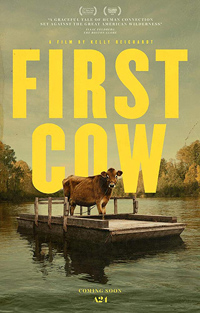 Kelly Reichardt conjures up an unlikely buddy-movie out of 19th-century fledging America: a tender, no-frills ode to friendship, spiked with pockets of suspense and unexpected laughter. Her vivid, mud-caked frontier (previously explored in her impressionist western Meek's Cutoff) convinces but never distracts. Instead, from its opening frame, First Cow is rooted in human emotion—and here, it thrives. Reichardt achieves the thrills and laughs of a traditional buddy-movie, with none of the affectation. In fact, her masterfully understated touch is what makes her seventh feature film a winner.
Co-written by repeat collaborator Jonathan Raymond (and very loosely inspired by his 2004 novel "The Half-Life"), the film opens with a thesis from William Blake's Proverbs of Hell: "The bird a nest, the spider a web, man friendship." In the first scene—clearly set in the present—a young woman (Alia Shawkat) discovers two side-by-side skeletons; in a blink, we're transported back to 1820, less to find out who than why. Cut to doe-eyed, soft-spoken "Cookie" (John Magaro), foraging for mushrooms in the forest: he's the overworked, underskilled provider for a camp of macho trappers—lonely until he meets a fellow outsider, the on-the-lam Chinese nomad, King-Lu (Orion Lee). They swiftly become partners-in-crime: stealing milk from the frontier's only cow, then selling it back to its owners in baked goods.
Does all of this unfold in Shawkat's head? Maybe, but that's not the point. First Cow isn't a mystery, it's a two-character study—minimalist in style but not content. Cookie and King-Lu have believable chemistry: King-Lu is the instigator, a gutsy foil to Cookie's uncertain conscience. Their common ground is instinctive kindness; despite their unlikely pairing, their friendship feels real. An added bonus: the film is not overtly political, but the East-West bond is metaphorically rich—and we come to love the pair.
As is expected with Reichardt, her actors say much without speaking, and the silence breeds subtext. Like the narrative, her production design is both bucolic and gritty—from an abundance of fish flip-flopping in streams to close-ups of hands that resemble gnarled roots. And like much of her earlier work, the pacing can feel languid—especially when the film pauses midway through the third act. This may prove challenging for some viewers, but those contemplative pauses are part of her magic. It wouldn't be a Kelly Reichardt film without opportunity to reflect.
Without sacrificing artistic integrity or ambiguity, Reichardt's First Cow is more expressionistic than impressionistic—and more accessible than her last film, Certain Women (review). This time, she imposes her trademark restraint on a more familiar structure, with a plot worthy of Tarantino or the Coen Brothers. The result is a compelling mix: authentic drama plus unabashed comedy. Situational humor tickles; spur-of-the moment humor erupts; looming dread is expertly applied. With Cookie and King-Lu, Reichardt has found a stylistic sweet-spot. The glow of their friendship, like the film, endures after the last image fades.
Reviewed on September 26th at the 2019 New York Film Festival – Main Slate. 122 Minutes
★★★½/☆☆☆☆☆