All I Desire: Reichardt's Exceptional Triptych of Tenacious Women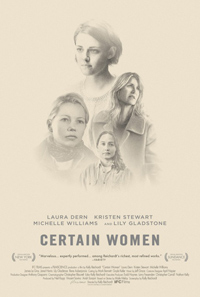 Though she's already touted as one of the most talented American contemporary directors, Kelly Reichardt accomplishes an unassuming masterpiece with her latest feature, Certain Women. Based on short stories by Maile Meloy, Reichardt adopts a conversational tone in this trio of narratives focused on three women living within the same vicinity in Montana. Commanding an impressive cast, Reichardt's lost none of her touch for skillful portrayals of subtle emotion, painting complex characters with rich, visual detail. Reuniting with DP Christopher Blauvelt (Night Moves), Reichardt constructs an elliptical narrative concerned with three distinct women attempting to pursue desired objectives. Observant, heartfelt, and incredibly eloquent, Reichardt's latest unfolds with poetic finesse, building to a powerful crescendo of sublimated emotion.
A variety of intersections transpire across a vaguely defined radius in Montana, some with more conflict and consequence than others. Laura (Laura Dern), a distracted lawyer, pays more attention to the married man (James Le Gros) she meets with secretly on her lunch hours than her troubled client (Jared Harris). When a hostage situation suddenly arises involving her client, we learn Laura played a detrimental hand in his current state of desperation. Next, a married couple (Michelle Williams, James Le Gros) is working through troubles specific to their relationship, building a new home together, the experience made awkward when they attempt to pressure an elderly old man to sell a stockpile of sandstone. And lastly, a lonely ranch hand (Lily Gladstone) develops a fascination with a young lawyer (Kristen Stewart) who has the misfortune of being tasked with teaching a class two times a week four hours from her home.
The first two narratives feature a prominent woman aggressively pursuing their personal goals, despite ill-fated consequences for those around them, particularly characters entering their personal orbit who do not fit neatly into their predetermined universe. Dern's distracted lawyer ends up being a detriment to her troubled client thanks to her illicit affair with James Le Gros, while Michelle Williams wages an uncomfortable battle of wills with a doddering old man (a rare appearance from Rene Auberjonois) for the sake of some historically authentic hand hewn stones. It's more difficult to feel empathy for either of them (especially an icy Williams) initially, presented as detrimentally self-absorbed. But Blauvelt's cinematography drinks these women in with startling grace, starting with its opening segment where Dern and Le Gros are featured in various stages of undress in opposing rooms during an afternoon, immediately signifying the same sort of illicit lunchtime affair which opened Psycho (1960).
Reichardt switches this up for the third and most emotionally gratifying segment, aided significantly by a powerfully effective performance from Lily Gladstone, whose eyes are filled with an unspeakable, palpable longing for the mussed up lawyer-to-be played by an equally terrific Kristen Stewart.
There's a sense of correction evident in each segment, those odd-man-(or woman)-out characters returned to the safety of their own environments. Reichardt beautifully depicts this in several ways, most magnificently in a short monologue from Le Gros, directing his daughter to be kind to her mother as he reverses his vehicle down a driveway. Having ended his adulterous affair, it's as if he's physically returning to his appropriate location. Likewise, the mournful parting shots of Gladstone as she drives back to her farm after being unceremoniously rebuffed by the woman she desires—both Le Gros and Gladstone are characters entranced by a woman lawyer, forced for various reasons to return to the place they came from. In each exchange, or even lack of exchange, one person is left significantly, irreparably altered, but at the same time, allowing for another person to be more complete.
Certain Women feels comparable to Rebecca Miller's celebrated 2002 title Personal Velocity, which won the Grand Jury Prize at Sundance and also featured three distinct women taking command of their own destinies. In many ways, Reichardt's more elusively designed film manages to be much more provocative thanks to her subtlety. Though the three main women don't directly intersect, this is a different take on interconnected characters, slyly proposing each woman's pursuit of happiness directly affects, for good or bad, the trajectory of those around them.
Reviewed on January 24th at the 2016 Sundance Film Festival – Premieres Programme. 107 Min.
★★★★½/☆☆☆☆☆