All the Beauty and the Bloodshed | Review
The Nan Movie: Poitras Presents Ravages of the Opioid Crisis Through Portrait of an Artist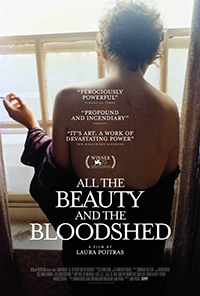 Academy Award winning documentarian Laura Poitras' latest documentary All the Beauty and the Bloodshed might technically be about the opioid crisis and continual efforts to hold the reprehensible Sackler clan responsible, but it's framed through the painfully personal prism of artist and activist Nan Goldin's life. There are several dualities here, including personal and political, micro and macro. Partially, it's an exploration of one individual portrait of trauma, joy, and creative success which all played a part in how Goldin became one of countless opioid addicts but also a survivor. But it's also a portrait of activism thanks to her unique platform to pursue an accountability the criminal justice system failed to administer, and ultimately one of Poitras' most emotional and poetic offerings in a career built upon the pursuit of showcasing controversial issues and figures. Goldin proves to be as fascinating a subject as her photography, and despite the inherent hopelessness of an epidemic which continues to ravage, there's a resiliency and tenacity which stays ahead of an apathy nipping at our collective heels.
Photographer Nan Goldin began to launch a crusade against the Sackler family in 2017, with director Laura Poitras beginning to document the arduous process in 2019. As years pass, initially with minimal success, Poitras begins with Goldin's present before switching back and forth through personal accounts of her childhood and eventual coming-of-age as a person and artist. A fascinating origin story behind both her publication The Ballad of Sexual Dependency and the politically charged AIDS crisis exhibit, Witnesses: Against Our Vanishing, infamously censored by the NEA, provides a template for Goldin's resistance and resilience from one cultural crisis to another.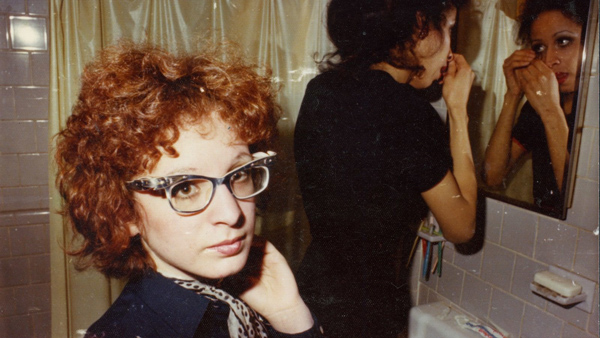 Providing achingly arduous memories of her childhood, including a dysfunctional household defined by an unstable mother and an older sister, Barbara, who committed suicide, Goldin's past also reflects the scarring inflicted upon her parents' generation, how the heteropatriarchy demanded automatons of the populace only to create a continually deepening vulnerability in our social normalization which allowed for any toxic elements to ravage, whether it was the AIDS crisis or the introduction of Oxycontin in rampant quantity.
The title of the film, revealed quite late in the narrative, was taken from the medical files of her sister Barbara, a notation stating she saw visions of the future, and 'all the beauty and bloodshed.' Poitras makes an effort to include actual footage of Goldin's parents, who in later years their surviving daughter interviewed about Barbara, their mother breaking down about a quote from Joseph Conrad found in her pocket after her remains were collected from a train track.
There's a lot to digest here, switching between the activism of P.A.I.N. (Prescription Addiction Intervention Now), the group created by Goldin, and their years' long struggle to get museums to stop taking donations from the Sacklers and then remove their names, and thus, their cultural heritage, from exhibits in vaunted institutions all over the world. While their successes are important, if ultimately limited because the Sackler family remains exempt from criminal charges due to the deal reached with the bankruptcy ruling of Purdue, the richness of Goldin's life experiences was worth a documentary well beyond her survival. Navigating 1970s New York and Provincetown, hobnobbing with a vibrant crew of boundary pushers, including the lovely Cookie Mueller, and other dark days of addiction and battery at the hands of an incensed lover, Goldin clearly has a fount of stories to tell, both extraordinary and heartbreaking.
And then there's a showcase of her work itself, such as the publication of The Ballad of Sexual Dependency. Even at a two hour running time, it feels like there's still so much left unsaid or incomplete about Goldin, and certainly, about the Sackler empire and an opioid crisis which has only worsened over the course of the COVID-19 pandemic because we live in a world accepting a system which tears us apart rather than bringing us together.
For those who don't know about harm reduction, Poitras' expose touches on the need for its funding and inception in several key moments, but it's also a subject worthy of her platform by itself (with pertinent cultural comparisons, such as how Portugal was able to drastically reduce addiction issues by decriminalizing drug use). Whatever the case, for the enlightened or the ignorant, All the Beauty and the Bloodshed is a moving portrait of our innate need for love, acceptance, and respect. And, hopefully, an example proving that, if these necessities aren't available to you, it's a call to seek them out because there are environments and people out there who can offer healthy, stable, loving relationships and support.
Reviewed on 3rd at the 2022 Venice Film Festival – In Competition. 113 Mins
★★★★/☆☆☆☆☆