Wisdom Tooth | 2019 PYIFF Review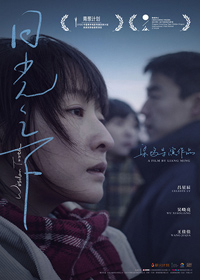 A seductive debut film, Liang Ming's Wisdom Tooth is a bildungsroman, both understated and immersive. Vividly rendered characters, organic humor plus a splash of crime entice viewers into a tangled interpersonal web. The central love-triangle (a reverse-gender Jules et Jim) is believably compelling; when it comes to depicting relationships, actor-turned-director Ming shines. While the film's slow-but-steady pacing, blurred lines of affection and unspooling relationships recall the superior Korean feature Burning (Lee Chang-dong, 2018), Ming's nuanced understanding of character makes him one of this year's most intriguing new directors.
Living in a modest apartment near China's northern border, Guxi (the wonderfully anguished Lu Xingchen, a rising star) and her half-brother Guliang (the lovable dunderhead Wu Xiaoliang) depend on each other for both financial support and affection. With no parents in the picture, the siblings' future becomes even more uncertain when an oil spill disrupts their fresh fish stall income. Enter Qingchang (the beguiling Wang Jiajia), a charismatic, wealthy young woman who sweeps Guliang off his feet, gets him a job and turns Guxi into an unhappy third wheel. And—as if the first two blows weren't enough—the trio is caught up in the aftermath of a mob killing: forces beyond their control (or so they think) shift their fate like malevolent tectonic plates.
Blue-grey industrial seascapes, wintry forests and cigarette-clouded restaurants—plus Ding Ke's original score with humming segments reminiscent of Andy Hull and Robert McDowell's work in Swiss Army Man—effectively set the mood. But because Wisdom Tooth's subtitles are imperfect, one wonders: are the long silences indulgently introspective, or was some crucial content lost in translation? Either way, Wisdom Tooth—like most first features—could benefit from a trim. The plot is less interesting than the characters; the film's emotional build is diluted by too many meditative scenes in the snow; a dream sequence plus multiple endings leave us wishing for less.
However: whatever Wisdom Tooth lacks in emotional pacing, it makes up for in authenticity. This quietly dramatic film is surprisingly funny, the way an offhand comment at dinner can provoke serious choking. Even better, none of the comedy feels manufactured. The opening gag in a changing-room is a clever one-two punch that not only establishes bonds between brother and sister but also grabs our attention. And later, when characters gather for beers and cigarettes, trading irreverent humor across the table, it's as if we're sitting there with them. By the end, when tension explodes, we feel truly stricken. Ming has given us three teenaged leads whose struggles are compellingly universal: youthful energy vs. adult wisdom; romance vs. family ties; desire vs. reason. Despite the film's faults, this is a first feature full of promise … as is its director.
★★★/☆☆☆☆☆
Reviewed on October 14th at the 2019 Pingyao Crouching Tiger Hidden Dragon Intl. Film Festival. 104 min.