Common Grounds: Khaou Strikes Graceful, Observant Notes in Debut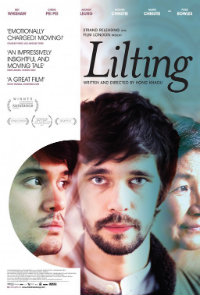 A moving, and sharply wrought screenplay supported by several elegant performances marks Cambodian born director Hong Khaou as a director to keep note of with his directorial debut, Lilting. A quiet drama revolving around communication, acceptance, and overcoming cultural barriers, it's a viewing experience that's wholly rewarding but requires patience, dealing with the hard won realism of grief, resentment, and the still prevalent notion of the hurt and awkwardness that accompanies the process of coming out to loved ones.
We meet June (Cheng Pei-pei) as her son Kai (Andrew Leung) visits her in a London nursing home. Quickly we learn, as they converse in Mandarin, that this a recent, and begrudgingly temporary decision on behalf of both parties. They interact with familiar warmth, but June seems bitter that she cannot move into her son's home, something impossible due to the fact that he shares his small flat with his "best friend," Richard (Ben Whishaw). Of course, to us, it's apparent that Richard is more than a friend and June seems to be in insistent denial of the fact that Kai is gay. But before the opening credits roll, we understand that June is not actually talking to Kai, that the conversation is taking place in her own mind since her son has passed away. Because June always resented Richard, perhaps not comprehending the true nature of his relationship to her son, she is averse to his visits to her at the nursing home. But June has developed an affectionate relationship with another member of the nursing home, Alan (Peter Bowles), even though they do not speak the same language. In an effort to help June, since he now feels responsible for her, Richard hires an interpreter, Vann (Naomi Christie), to translate for the couple. Of course, this also leads to an avenue for Richard to communicate with June as well.
While there's certainly not much surprise to be had with the events transpiring in Lilting, its power lies in the quiet interactions between two individuals grieving and struggling to find a common understanding. To have administered a bombastic climax or harrowing finale would have seemed out of step with Khaou's tender, fragile creation of breaking down culturally constructed barriers.
The subplot involving Alan's relationship with June provides some necessary comic relief as it further develops characterization, though the droll Peter Bowles sometimes seems too conveniently used and in perhaps too high a dose. However, Naomi Christie strikes an extremely likeable presence as the bridge between Pei-pei and Whishaw. While Pei-pei's performance is rightly subdued and realistic, the heart of the film lies with Whishaw's extremely moving performance as the mourning Richard, with not a dogged glance or a teary lilt out of place.
Urszula Pontikos, who also served as cinematographer for Andrew Haigh's Weekend, gives a series of controlled interior shots, breaking out into large expansive landscapes and skylines after several emotional buildups, resulting in some much needed exhalation. While it revolves around somber themes, Lilting is a celebratory piece, a rare film that manages to strike the right notes concerning the difficulty we experience interacting and understanding one another.
Reviewed on January 16 at the 2014 Sundance Film Festival – World Dramatic Competition. 86 Mins
★★★/☆☆☆☆☆