Dance the Dance of Another: Guadagnino Goes Deeper & Weirder in Ambitious Argento Remake.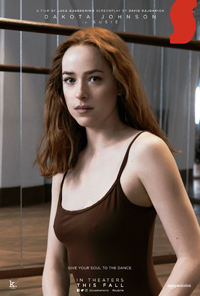 Luca Guadagnino has always been a supremely divisive filmmaker, capable of sublime beauty and inexplicable fumbles, and his new remake of a classic of Italian horror in Suspiria is sure to rekindle that trend after the Call Me By Your Name-sized truce of last year. But what is a remake or a reimagining good for if you are not going to experiment wildly with it?
Fortunately, Guadagnino took a considerable amount of studio money – with few strings attached – and went on to do just that (and then some), taking the iconic though flimsy material of the original film and stretching it to contain an almost preposterous amount of new themes, references and context. Yes, the result is about as pretty as the demonically consumed remains of the spirit of an old witch leader wearing sunglasses; and no, this doesn't make any sense, really. But – as Tilda Swinton's dance instructor wonders after seeing her student try to perform a jump – "Are you so happy to be stuck to the earth?"
Set in the year the original came out, 1977, Suspiria swaps Freiburg for Berlin, in a more consequential change than perhaps anticipated: while things inside the austere Markos Tanzgruppe building are more or less recognizable to fans of Argento's film (the gist: when you choose a prestigious dance company abroad, take extra care to ensure it is not run by witches), Guadagnino and his screenwriter David Kajganich try to build something outside of it, too.
It's not a coincidence that the building ("this box of rabies", as one of the students puts it) is located in direct proximity to the Berlin Wall: using history rather liberally, and applying it like coarse strips of bandage around a rotten, infected core of nastiness, the two end up linking the horror within the dance company to the political terrorism of the 1970s in Germany (the film takes place during the hostage situation that followed the Red Army Faction's hijacking of a plane), and then further back to the Holocaust, and then again to something ancestral and profound, almost at war with the concept of history itself, as dispensed by the patriarchy. Evil and other lesser evils work in tandem to make the truth harder to reach, and to make things and people disappear while everybody is distracted by the confusion, and maybe that girl who vanished just really wanted to be a terrorist. "Why is everyone so ready to think the worst is over?"
By the time this vertiginously gory explosion hits in full force, you realize bandages have long outlived their usefulness, and it can only be time for a more directly Argento-inspired conclusion, which is so ridiculous that it suddenly makes you remember how Guadagnino/Kajganich have made the same mistake in the past, only this time it's weirdly almost ok.
Back when the witches were still keeping up appearances of a respectable dance academy, though, Suspiria admirably juggled its unabashed love for the original and the desire to add something more, but not more of the same. In fact, it's not that extreme or horrific – or even interested in appearing so – to begin with, preferring instead a slow build-up that expands both the role of newly-arrived student Susie (Dakota Johnson) and that of Dr. Klemperer (a delicious performance once you figure out where it's going), a psychotherapist who is investigating the school after the disappearance of one the dancers, Patricia.
There is a sequence that seems designed to give Suspiria fans what they want, and it efficiently performs its duty while also getting it out of the way to make room for more atmospheric building: Susie, who has dazzled the severe master instructor Blanc (Tilda Swinton) and has quickly moved from hopeful auditionee to candidate for lead dancer, performs her part while simultaneously causing the previous lead, in a different room, to contort in a deadly seizure with each progressive move. It's disturbing, it's great sound design, and it presents the notion of dancing as an offensive art, something that this group of women has been doing since time immemorial. "I want to be the hands," says Susie in choosing the role she will serve for the company. And the hands she become, firing blasts of energy through the magic of cross-cut editing.
In a film that is perhaps unexpectedly devoid not just of horror, but also of sex and desire, Johnson does well as the naive student, fresh from Ohio and so delightfully happy at the prospect of calling herself a Berliner, who nonetheless morphs quickly into an enigmatic extension of the film's subtle psychological dabblings, more intellectual than sensorial, and definitely more evocative than substantial. The six acts and an epilogue, "set in divided Berlin", don't always stand up to precise scrutiny, but that has never been what Guadagnino's cinema is about, and the sheer preposterousness of this remake will maybe, for many, obfuscate a pretty self-evident truth: Guadagnino is not selling you the artifice, nor is he offering it to you post-modernly; but he is inviting you to marvel in its imperfection.
Reviewed on September at the 2018 Venice Film Festival – In Competition. 152 Mins.
★★★½/☆☆☆☆☆