A Touch of Class: Chang-dong Returns with Masterful Class Clash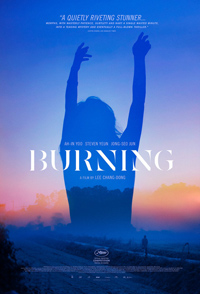 Puns concerns its slow build will be sincerely intended in forthcoming deliberations on South Korean Lee Chang-dong's first feature in eight years, Burning, a two-and-a-half-hour masterpiece modeled after a short story by Japanese author Haruki Murakami. Outfitted to deal with contemporary class issues in South Korea, as exemplified via a troubled romantic triangle, echoes of the original 1939 William Faulkner short story "Barn Burning" are also clearly evident (Chang-dong gives the American author an intertextual shout-out here, as well). A simmering potboiler, Chang-dong, who revels in complex character driven narratives, as evidenced by previous efforts such as 2007's phenomenal Secret Sunshine and 2010's Poetry (both which depend exclusively on female driven perspectives), fashions his first significant masculine protagonist in this woebegone study on class issues, loneliness, and the moral bankruptcy of society's wealthy elite.
Jongsu (Yoo Ah-in) has recently completed a degree in creative writing but finds himself stuck in an aimless void while he tends to responsibilities at his family's farm. While his mother abandoned him as a young boy, his socially inept father has become embroiled in legal issues following an altercation with the police and thus faces a stiff sentence. Accidentally running into an old classmate from high school, the surgically altered Haemi (Jun Jong-seo) inspires a sexual encounter which finds Jongsu agreeing to cat sit while she goes on a trip to Africa. She returns with Ben (Yuen Steven) in tow, a handsome, wealthy bachelor who seemingly has interest in Haemi. For a while, they're a cheery trio, until Haemi suddenly vanishes soon after Ben confides in Jongsu his passion for burning greenhouses as a secret hobby.
Like the main character in Faulkner's original prose, Jongsu familial predicament is tinged by his father's current legal woes, which includes assault on a police officer and an impending prison sentence. Observing from afar his father's troubles, Jongsu struggles to craft his own identity, which concerns his desire to be a writer, something which he can't seem to bring himself to do as he's been unable to extricate himself from certain duties on the farm. A brief reunion with his estranged mother finds him confronting a woman he barely knows who has completely absolved herself from the past, ensnared by pop culture trends and the phantom of social media. She's obviously not the only ghost from Jongsu's troubled past, as the opening reunion with Haemi, an old classmate who has transformed herself via plastic surgery proves. Early exchanges involving Haemi's training to be a mime sets the stage for Burning's troubled heart and the ability to convince oneself to forget what they want isn't actually there. Obviously, this also relates to the romantic connection Jongsu quickly develops for Haemi, who like many a Murakami fatale, is a woman in trouble. Class and gender issues inform the backdrop of their interactions, and the ability to reach beyond the socioeconomic status one is born into is presented as an impossibility. This is a world of haves and have nots—those who attempt to ascend are punished, while the upper echelon preys on the disenfranchised for various malicious satisfactions.
Chang-dong ratchets up the tension through murky deliberations on identity—none of these characters are who they seem to be. Yoo Ah-in's Jongsu, who eventually becomes our sympathetic protagonist, is still a suspicious non-entity, a personality who remains informed by his environment and susceptibility to stronger personalities. A nervous score from Mowg effortlessly sails us into a third act where Haemi disappears and Jongsu begins to follow the mysterious Ben, a sinister playboy who engages in the aforementioned burning of greenhouses.
Shrouded in mystery, Chang-dong keeps us in suspense until the film's blazing climax in what stages as the auteur's darkest, most misanthropic effort to date. While Burning is Chang-dong's sixth feature over the span of two decades, his latest is a tightly wound, increasingly bleak masterpiece, and as clear-eyed a castigation of wayward social woes as ever.
Reviewed on May 16th at the 2018 Cannes Film Festival – Competition. 148 Minutes
★★★★/☆☆☆☆☆