And Goodnight: Levitas' Debut Works Too Hard for Genuine Catharsis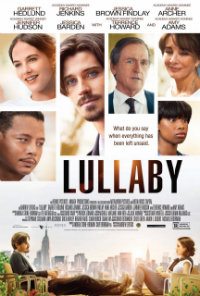 Headlined by one of those casts that seems too good to be true, actor Andrew Levitas (HellBent; Beauty Shop) makes his screenwriting and directorial debut with the heartfelt Lullaby. But this is one melancholic little ditty that has a few too many extra verses, a bit of overreach rendering it emotionally ineffective. Overwrought when it should be meditative, distending to ungainly subplots when it should be reigning in its central familial unit, only a kernel of the dramatic potential remains. However, there's nary a moment where we're persuaded to feel much of anything for the privileged members of this bruised brood, and so it becomes a standard indie drama that has more potential as an agenda driven message film than the emotionally complex examination of its troubled protagonist that it should be, especially considering this was inspired by the director's personal experiences.
Returning home to visit his ailing father, Jonathan (Garrett Hedlund) seems rebelliously determined to smoke, whether that be in the bathroom of the plane or the hospital lobby. Somewhat of a loose cannon, he seems to have purposefully estranged himself from his family even since learning his father, Robert (Richard Jenkins), a once successful businessman, was diagnosed with cancer, now suffering through his twelfth year with it.
Robert has called his children to his side to reveal that he will be ending his life in the next 48 hours, tired of the pain associated with the predicament that has been forcing his wife (Anne Archer) so much heartache. Jonathan's reaction is at first angry, but somewhat more grounded than his sister's (Jessica Brown Findlay), a lawyer that files an injunction to stop the assisted suicide about to transpire with her father and his doctor (Terrence Howard). Meanwhile, Jonathan feebly connects with another cancer ridden patient at the hospital, 17 year old Meredith (Jessica Barden), who proclaims she won't last until Christmas. Outside of the hospital, he somehow runs into ex-flame Emily (Amy Adams), who has a few things to say about his despondent relationship tactics.
If there's anything worth salvaging from this controversial scenario that unfolds in utterly unenthusiastic fashion, it would probably be Richard Jenkins' performance as the dying patriarch of his squabbling family. He's utterly believable as he sails through moments of anger, bitterness, and gentle affection. Yet, those familiar with his lengthy filmography might be distracted by memories of Jenkins' similarly incapacitated role in the Farrelly Bros. 2001 gross-out clunker, Say It Isn't So.
Hedlund, arguably, is doing his best, but never quite manages to reach any genuine moments of catharsis his character so desperately craves. Instead, Levitas bogs down the screenplay with improbabilities and strained sympathetic flourish, starting with the ridiculous set-up that shows Hedlund smoking in the airplane bathroom, a situation that has an unlikely conclusion, and then again in the hospital lobby, where he is castigated by, get this, none other than Jennifer Hudson as a no-nonsense nurse. Hudson, of course, happens to be the nurse that works on the same ward where Jenkins is kept, allowed to make an appearance for broad comedy, where bad grammar and questionable customer service skills in such a setting attempt to relieve the dour mood.
Others cast members seem carelessly ignored, with Amy Adams and Jessica Barden rounding out narrative distractions that should have been excised completely, while Terrence Howard and Anne Archer seem utterly wasted in throwaway roles. By the time we get to Hedlund's crooning with a song meant to be an ode to his character's father, it's a real bit of emotion that's too little too late.
★/☆☆☆☆☆