Fitness for the Prosecution: Von Horn Sings Song for the Lonely in the Digital Age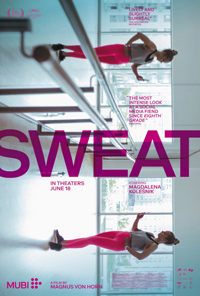 In the digital age, perhaps now more than ever, love is still the only thing there's just too little of, to borrow from the famed Bacharach tune which Jackie DeShannon recorded way back in 1965. It's certainly the elusive absence gnawing the considerable void of the lead character in Magnus von Horn's increasingly poignant sophomore film Sweat, which focuses on the somewhat isolating effect of social media stardom on the life of a fitness instructor/influencer in Warsaw. If Swedish helmer von Horn's 2015 debut The Here After (a drama which shares similar themes with last year's Waves from Trey Edward Shults) brought him back to his native country, his latest film displays an astute cross-cultural straddling in a feature which explores universal motifs in decidedly Polish parameters.
Charting three emotionally fraught days in the life of thirty-year-old social media celebrity Sylwia Zajac (Magdalena Kolesnik), we follow the self-made fitness motivator on the verge of a precipice since she has amassed a formidable fanbase thanks to her peppy personality and vibrant beauty. While a recent tear-soaked post about her loneliness seems to have jeopardized her chances at appearing on a popular morning television show which seems keen on inviting her for a live performance, the confession has also attracted other problematic attention from an unstable man who begins to stalk her. Parked outside her apartment building, Sylwia boldly approaches only to find herself the victim of sexual assault when he begins masturbating in his vehicle. What's more distressing is when her emotionally distant mother (Aleksandra Konieczna, Corpus Christi, 2019) places the blame on Sylwia for the occurrence. A drunken flirtation with a colleague (Julien Swiezewski) leads to a violent episode which challenges the authenticity of Sylwia's outlook.

Where Sweat begins, and what it's title comes to signify, is a metaphor for catharsis, the regulation of emotions through the expiation of cultural and physical toxins. But while Sylwia exists and profits from the realm of the physical, the superficial (the epidermis, if you will), these are merely facades which suffocate her need for authenticity and intimacy.
As von Horn rightly describes her, Sylwia is an emotional exhibitionist, a label which could be applied to most inhabiting the realm of social media as an 'influencer,' whose popularity and power rest in their manipulation of followers to buy into their persona, their opinions or their brand all through the simple act of convincing strangers to tune in—and through their collective gift of time and energy, together forming a legion. But as Sylwia muses, how many of them would truly care or notice if she were to disappear tomorrow?
As Sweat begins, Kolesnik's Sylwia bears all the obnoxious ear markers of a narcissistic beauty relying solely on physicality and manic charm. After one of her popular work-out classes, she sings along to Roxette's "She's Got the Look" in her car, declaring her love for the song and the band despite not having an audience, so accustomed she's become to the act of performing 'herself' at all times. But as her legion of followers grow (nearing 600,000 sycophants, such evidence inspires awe and wonder from those around her), her inability to have her own emotional needs met invokes a reckoning, a ripple effect engendered by her teary breakdown about feeling lonely. If Sweat divorces itself from American perspectives, its where it tries to allow critique of Sylwia for her tear streaked monologue, with a female morning show host suggesting she 'focus on her own domain.' But there's no such thing as bad publicity and Sylwia spins her angry epiphany into a bright new sun-shiny day because she at last, perhaps for the first time, speaks in her own authentic voice.
Von Horn doubles down on the reality of commodification with Sylwia sexually assaulted by her amorous stalker who is enamored with her online persona and then again by a colleague when a tentative flirtation spins out of control. Sylwia's motivation for seducing Swiezewski showcases her inability to communicate her needs, clearly searching for an intimacy and protection rather than a sexual tryst.
It's a painful but astutely orchestrated psychological portrait arriving after a birthday party for her mother, which contains all the basic information we need to realize Sylwia's emotional neglect and lack of protection or empathy from those who are supposed to love and support her. Of course, this leads to the film's violent outburst which, while emotionally wrenching, provides the impetus for Sylwia to step into the role of an empathetic caregiver herself, albeit out of necessity. In the face of her stalker's anguish, bleeding and broken at her feet, she's at last forced to confront a recognition of humanity raging beneath the veneer of social media's forced fantasies. And if von Horn leaves her in nearly as dubious an emotional state as we're introduced to her in, Sylwia's resiliency is only further cemented by the final frames of Sweat, peering back into the abyss which can only be realistically navigated by loving one's self.
Reviewed on June 23rd – Cannes 2020 Label – THE NEWCOMERS Section. 105 Mins.
★★★½/☆☆☆☆☆