Summer of 85 (Été 85) | Review
Summertime Sadness: Ozon Casts Yonder Glance at the Boys of Summer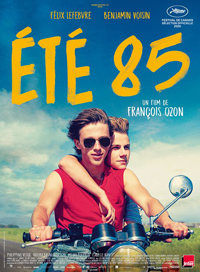 Rare is the year without a fresh offering from perennial French favorite François Ozon, who tends to glide between tones and genres effortlessly. And 2020 is no exception. His latest, Summer of 85, adapted from the novel by Aidan Chambers, is a nostalgic glance at an angsty season of friendship and romance between two adolescents on the sun-dappled Normandy coast of 1985.
After a decade of short films, Ozon's early features marked him as a terrible enfant thanks to his daring, sexually provocative narratives from an unabashed queer lens. Increasingly, the edginess has somewhat softened, perhaps as an automatic byproduct of the pace at which Ozon works, and his bears the essence one might have expected from the earlier part of his career in short form, a framed narrative denoting a terrible tragedy which then presents as an extensive flashback. Ultimately misleading with its eventual grand reveal, it serves some of Ozon's usual colorful flourishes in an ultimately empty-headed bauble.

Alexis (Felix Lefebvre) is teenager at a crossroads, deciding whether or not to pursue his interests in literature (a professor played by Melvil Poupaud certainly seems to encourage him) or become like his working class father and work the dockyard in Normandy. When he's out alone on a friend's sailboat and it capsizes during a storm, he's rescued by the roguish 18-year-old David (Benjamin Voisin), who takes his new protégé home to his mother (Valeria Bruni-Tedeschi), delighted her son has seemingly found a normal friend. Eventually, she hires Alexis to work in her local shop, which allows the young men to spend even more time together. As quickly as romance blossoms following physical consummation, it just as quickly begins to sputter when David admits he doesn't wish to be tied down with one person. Their relationship is told via flashback as Alexis first narrates from a detention center, where he is tasked with writing a story about what exactly happened that summer, which ended in tragedy. As the events slowly lead to the reveal, Alexis awaits sentencing, his only line of defense explaining himself via prose.
What Ozon really nails with Summer of 85 is its portrayal of the impassioned, border-line obsessive enchantment of first love reciprocated, including the shared bond of secrecy for young gay youths. When things heat up between Alexis and David, first as an innocent friendship which segues authentically into a consuming affair, and then as a doomed union when yesterday's love becomes today's sorrow, Ozon carefully balances the parameters of a particular period, prior to the advent of social media's eventual mutation. And since all good things must end, consequently, the childish self-sabotage which visits all relationships rears its ugly head. Summer of 85 takes this to the extremes, beginning with an opening sequence which suggests Genet's Un Chant D'Amour (1950) and then turns into a YA preoccupation wherein Ozon regular Melvil Poupaud (Time to Leave, 2005; By the Grace of God, 2018) valiantly struggles to impart resonance as the championing English teacher, showing up to beg Alexis for the latest 'pages' of his essay defense to show to the social worker who will then request clemency for his 'crime.' It all seems a bit silly by the time we get to a final court room speech.
However, Summer of 85 is still clearly in the wheelhouse of Ozon's favored motifs, embracing the fluidity of sexuality once again with the warm inclusion of Philippine Velge's Kate, the English au pair who proves to be the unintentional wedge between Alexis and David. She's reminiscent of Ozon's earlier characters performed by both Marina de Van and Ludivine Sagnier, a playful slice of empathy in another scenario reminiscent of Water Drops on Burning Rocks (2000).
Both Felix Lefebvre and Benjamin Voisin present authentically with persuasive chemistry as friends who become lovers, the reality which allowed their feelings to flourish in secret eventually turning into the very elements forcing them into stagnation. The always welcome Valeria Bruni-Tedeschi (the lead from Ozon's 5×2, 2004) is on hand as David's kooky mom, who ends up morphing into a pseudo-villain for the only real prolonged tension between any two characters, and as shot by Hichame Alaouie, Horse of God, 2012), the sun kissed period tics are a perfect juxtaposition for a melancholic summertime romance, here brought to the exaggerated conclusion of a vintage era (considering the narrative doesn't seem far from the same intentions of "Leader of the Pack" by The Shangri-Las).
Ozon's ear for soundtrack selection never fails to impress (plus a fitting score from Jean-Benoit Dunckel), but one wishes the complexities of Alexis' obsession with death would have been pushed further, including his interest in mummification (a great nudge to the wonderful poster art for Mike Newell's obscure 1980 The Awakening, hanging on his bedroom door, suggest more subtexts than there are). Had Summer of 85 eschewed the unnecessary framing device, it might indeed have succeeded as a straightforward melodrama.
Reviewed virtually on September 12th at the 2020 Toronto International Film Festival. Special Presentations – 100 Mins
★★½/☆☆☆☆☆