Reno 911: Boyle's Indie Neo-Noir an Enjoyable Pulpy Exercise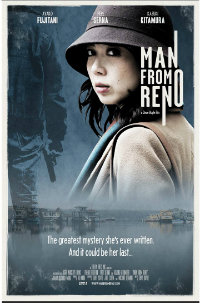 For his fifth feature, indie filmmaker Dave Boyle pays homage to film noir tropes with his twisty, engaging Man From Reno. Along the lines of the light, comically inclined indie sleuthing of Aaron Katz's Portland set Cold Weather (2010), Boyle gives noir a fresh face in the culturally ambiguous city of San Francisco. Though not all of its tangential elements feel quite successful, Boyle's screenplay, co-written with his regular collaborators Michael Lerman and Joel Clark, features an unpredictably dark third act that more resolutely recalls the films it's inspired by than most of its modern counterparts.
Recently escaping from a book tour back home in Japan, famed pulpy mystery author Aki (Ayako Fujitano) finds herself alone in San Francisco while her disappearance causes a dramatic furor. She runs into a sexy stranger who calls himself Akira (Kazuki Kitamura), weaseling his way into her bed before strangely disappearing the next morning. His absence causes Aki to delve into her sleuthing tendencies and she soon finds a trail of growing strangeness that leads to danger. In a rural area outside of San Francisco, a local Sheriff (Pepe Serna) accidentally runs down an injured man in the fog. Bringing him to the hospital, the man flees upon recovering, his body later found in a swamp. Eventually, the sheriff stumbles upon a trail that leads him to San Francisco in search of the same man as Aki.
The passion for neo-noir is alive and well, with Man From Reno taking home the Best Dramatic Feature Prize at the 2014 Los Angeles Film Festival (earlier that same year, Diao Yi'nan's Black Coal, Thin Ice won the top prize in Berlin). Starting off a bit chilly, it takes a while for us to warm to the opposing strands. Ayako Fujitani (who starred in Boyle's 2012 film Daylight Savings) as the depressed mystery author trying to escape from an identity more manufactured than anyone could potentially guess, is a bit imperceptible at first, though she quickly thaws once the handsome and enigmatic stranger (Kazuki Kitamura) lures her into a dense mystery. Character actor Pepe Serna, in an enjoyable performance, is saddled with a vague workplace dynamic involving his daughter (Elisha Skorman), that feels like it could easily have been excised from the film, but by the time he reaches San Francisco and joins forces with Fujitani, Reno starts to hit its stride.
For his part, Kitamura, recently seen in the silly Killers and The Raid 2, is an excitingly alluring stranger wrapped up in a plot that's borderline ridiculous but entertaining (and its use of exotic animals within murky plot details recalls Atom Egoyan's 1994 film Exotica). Under DoP Richard Wong's gaze, San Francisco becomes a delectably foggy and grim host for criminal tendencies, and though Boyle's film isn't of similar caliber as famed Frisco noirs like The Maltese Falcon or Dark Passage, it evokes the dark hearted violence that marked the location as the birth of the tenuously defined genre.
★★★/☆☆☆☆☆