Ingeborg Bachmann – Journey into the Desert | 2023 Berlin Film Festival Review
Road to Nowhere: Von Trotta Presents the Basics on Bachmann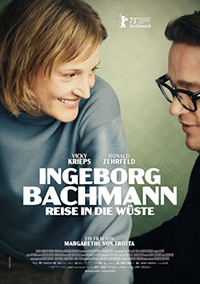 Throughout her career, Margarethe Von Trotta, a key figure from the New German Wave of the 1970s, has often focused on the recuperations of specific iconic women, from Rosa Luxembourg to Hildegard von Bingen to Hannah Arendt, usually with exceptional results. Her latest focuses on esteemed Austrian writer Ingeborg Bachmann and her toxic relationship with Swiss writer Max Frisch in Ingeborg Bachmann – Journey into the Desert, detailing their relationship in the late 1950s.
Unfortunately, for those unfamiliar with Bachmann, this isn't a helpful entry point, dealing specifically, and through surprisingly superficial flourishes, never conjuring either the actual impetus of this relationship or a clear portrait of the artist herself. Had von Trotta made this project in the mid-1980s, her muse Barbara Sukowa most likely would have portrayed Bachmann, but Vicky Krieps carries the grim responsibility of keeping this well-intentioned, but exceptionally bland endeavor afloat. If one were to remove the writers' names, von Trotta's treatment would resemble countless hordes of toxic love affairs gone awry, which is a pity considering Bachmann's cultural contributions and rather fascinating life, which descended into drug addiction and alcoholism.
Noted Austrian poet Ingeborg Bachmann (Krieps) met renowned Swiss playwright and author Max Frisch (Ronald Zehrfeld) in Paris, 1958. A shared attraction leads to a romance which would see her move into his Zurich home, where, over the next four years, they would engage in toxic behaviors which would ruin their relationship. Her attempts to salvage what they had by returning to Rome, her favorite city, where ex-lover Hans Werner Henze (Basil Eidenbenz) also lives, furthered the malcontent. At this point in her career, has stopped writing poetry, much to the chagrin of her fanbase, focusing on speeches, such as the noted "The Truth is Bearable for Humankind," while also adapting opera with Henze, such as Homburg (based on Kleist's play) and translating Italian poet Ungaretti into German. After Frisch embarks on an affair, Bachmann is left depleted, suffering from fainting spells and as part of her recuperation, she contacts Adolf Opel (Tobias Resch), who becomes her lover and invites her on a trek to the desert, where she can heal herself and re-learn to live, laugh, love.
As likable as Krieps can be, she's limited to being a rather rough composite of Bachmann, a chain smoker (a likely contributor to her dizzy spells) who seemingly suffered from a mental health breakdown following her dissolution with Frisch, only to reclaim herself and her energy on a rehabilitative trek to Egypt with the younger journalist, Adolf Opel. Von Trotta weaves the dissolution of their relationship with this defining trek, presumably as an attempt to provide Bachmann with a positive reclamation, but this ultimately fails her experience. Instead, we get vague nods of things to come, such as a party dress being lit on fire, a hint at an incident in 1973 when Bachmann would suffer second and third degree burns after her nightgown was lit on fire by a cigarette, a situation made possible through her addiction to barbiturates.
More importantly, von Trotta doesn't convey the actual impetus for her attraction to Frisch. Their courtship unfolds over rudimentary conversations meant to convey their parallel lanes of importance. He's over complimentary to her ("when I ready you I hear the voice of a woman," he wheedles), convincing her to leave Berlin to live with him in Zurich in an apartment where his selfishness drives her crazy and her wardrobe enhances her disappearance within its walls. And then Frisch flips a switch and suddenly becomes an overly possessive, jealous bore who cannot withstand her popularity. As Frisch, Robert Zehrfeld is a stone's throw away from the portliness of Russell Crowe, and apart from his name, he's not differentiated with the other men fawning deliriously for her attention. Their doomed affair should have developed an energy like that between Louise Bryant and John Reed in Reds (1981), with the brief interruption of Eugene O'Neill. Her struggle for liberation is supposedly successful thanks to a poorly constructed foursome with the bisexual Opel and two overly enthusiastic Egyptians whose behavior suggests they're sex workers rather than suitors.
More along the lines of the baseline Sylvia (2003), which starred a miscast Gwyneth Paltrow as the tragic, brilliant Sylvia Plath, Ingeborg Bachmann – Journey into the Desert is a reduction rather than an enhancement. For something much more provocative and suggestive of Bachmann's interiority, Werner Schroeter's adaptation of her most famous work, Malina (1991), starring Isabelle Huppert, is much more indicative of her person and her talents. Instead, we get large swaths of characters reading prose to us as a way to dive into her body of work, the kind where hyper literate artists also conjure whole poems in convenient measure. Instead, this is a tale of two artists who didn't have the foresight to realize particular requirements would need to be made to satisfy their mismatched creative processes, as if von Trotta was making a nod to her early career as a writer/director while married to Volker Schlondorff. As disappointing and oddly hollow as Werner Herzog's homage to Gertrude Bell in Queen of the Desert (2015), the talents of Ingeborg Bachmann are egregiously unattended in Ingeborg Bachmann – Journey into the Desert.
Reviewed on February 19th at the 2023 Berlin International Film Festival – Competition section. XXX mins.
★½/☆☆☆☆☆