Le grand chariot (The Plough) | 2023 Berlin Film Festival Review
Father Knows Best: Garrel's Family Affair Flounders in Banality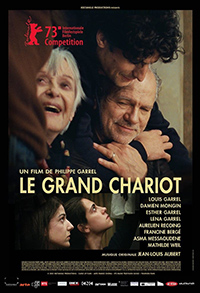 Although co-credited to the late, great Jean-Claude Carrière and starring a whole gaggle of the Garrel clan, Le grand chariot (The Plough) might be Philippe Garrel's greatest misfire, an imploding star in his own constellation of cinematic offerings (seeing as it's title references the star pattern known in the US as The Big Dipper). Also scripted by his spouse, Caroline Deruas-Garrel, this three-generational saga about a group of old school puppeteers is a shoddily assembled affair detached from any real semblance of reality.
Painstakingly sluggish and littered with hollow characterizations strung together as chintzily as a popcorn garland on a trash heaped Christmas tree, Garrel ploughs through his own standard motifs regarding starving artists chasing their dreams while incestuously exchanging bedfellows. The only real element of interest is how his females-as-fodder syndrome wheedles its way through minor supporting characters, relegating his two daughters to bland composites struggling in vain as noble but ultimately helpless, inconsequential beings with the emotional registers of robots. That's at least something positive in comparison to the outrageously obnoxious male friendship pulling focus between broody, mop-headed dullards of the incessantly romanticized starving artist ilk whose smug countenances should inspire anyone remotely discerning to run away screaming.
Louis (Louis Garrel), Martha (Esther Garrel), and Lena (Lena Garrel) are three siblings who have been reared in their father's (Aurelien Recoing) puppeteer company, a humble self-made troupe established by his now deceased father. They're assisted by their grandmother (Francine Berge), but with father's health beginning to fail, they're in need of some new blood if they're to continue. They adopt a penniless painter, Pieter (Damien Mongin), rescued from destitution in being offered to assist the family's struggling business. He's married to Helene (Mathilde Weil), who's about to have their baby, but he embarks on a whirlwind affair with Laure (Asthma Messaoudene), a momentary replacement for Lena in the troupe. While Pieter leaves his wife, the family is suddenly struck by an unexpected tragedy when their father exerts himself during a puppet performance. With the siblings left to run the business themselves, each of them are eventually challenged to pursue their actual interests.
An awful lot of screen time is relegated to either rehearsal or presentations of the puppet act, arguably to showcase how the craft has kept the family together. Instead, these moments play like an easy way to avoid spending too much time with characters who are bustled about by the film's lackadaisical narration, a device used to fill in the sink holes of interiority and lack of connective tissues between scenes.
With Esther and Lena Garrel left at sea as the siblings who remain stuck with the family business (though no one really appears to be struggling as much as their meager living would suggest), the other two non-Garrel ladies are subjected to the director's usual template of women cursed by their attraction to selfish narcissists, cut from the same cloth as the situations of In the Shadow of Women (2015) or The Salt of Tears (2020).
Asma Messaoudene as the one-dimensional Laure fares the worst, a stand-in for Lena in the first portion of the film who, for whatever reason, falls head over heels for Pieter, played by Damien Mongin as one of the most egregiously boring and unforgivably weasley creations from Garrel's filmography. She's eventually inspired to leave him, but only after he's driven them into avoidable poverty (though clearly, we're led to believe she's still smitten). Mathilde Weil's Helene is the only female who generates a semblance of agency if only for her momentary critique of Pieter before she's carted off to be Louis' plaything.
Longtime character actress Francine Berge shows up to prove her skills as a somewhat unstable type are still intact, but she often feels in an orbit of her own, considering her grandchildren refuse to even address her swiftly developing dementia. Garrel kills her off unceremoniously as soon as this starts to feel too pesky. Italian DP Renato Berta, who has lensed Garrel's last three features (which have been black and white), also seems constrained by the trenchant quaintness of this project about a family who've grown bored with each other and made by a family who apparently don't realistically critique one another.
Reviewed on February 21st at the 2023 Berlin International Film Festival – Competition. 95 mins.
★/☆☆☆☆☆