Can't Stop, Won't Stop: Neeson Goes Nowhere in Another Derivative Offering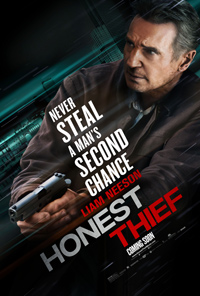 Every generation tends to spawn a golden year action star from an aging flock of matinee idols. Surely, Charles Bronson took Death Wish to his grave and Bruce Willis likewise drove Die Hard to its last breath before marinating in a continual onslaught of subpar action flicks. And then, there's the special case of Liam Neeson, whose 2008 title Taken re-launched the Hollywood alum as a bona fide action star, spinning not only a franchise but a litany of similar titles cashing in on his newfangled popularity, from Non-Stop to Run All Night to The Commuter and what was supposedly his last entry in this vein, 2019's Cold Pursuit (a remake of Norway's In Order of Disappearance).
More egregious lies have been told, of course, and Neeson continues his farewell tour with his latest starring role in Honest Thief, the sophomore effort from Mark Williams, producer and co-creator of the celebrated "Ozark" series. Williams directs Neeson exactly as one would expect, and for those who have come to look forward to a perennial studio effort showcasing the performer, perhaps this won't disappoint. However, this cornball, sanctimonious narrative plays like propaganda from the studio era's insistence on championing the moral high ground.
For nine years, a notorious Massachusetts bank robber, nicknamed the "In-and-Out-Bandit" for his skills extracting money without any kind of detectable entry, has eluded capture. He happens to be the unassuming but charming Tom (Neeson), who, upon meeting Annie (Katie Walsh) while she's working at a storage facility he frequents (and, as mentioned several times, studying for her Master's in Psychology), falls in love. A year later, his bank robbing days behind him, Tom offers to buy Annie an immaculate house reminding her of her childhood. But his nagging conscience leads him to the epiphany he must atone for his criminal past. Contacting the FBI, he reaches Agent Sam Baker (Robert Patrick), a man used to crank calls from people admitting to crimes they did not commit. Tom wants to cut a deal, hoping he'll get a reduced sentence if he hands over all the money he's stolen. Circumstances dictate Agent Hall (Anthony Ramos) and Agent Nivens (Jai Courtney) interview Tom in a hotel room. He divulges the location of some of the money, and after verifying, they decide to kill him and take the money themselves. However, Tom eludes them and soon he's being chased across the city, hoping to prove he's innocent of a murder Agent Hall and Nivens commit to another pursuing official, Agent Meyers (Jeffrey Donovan).

Strangely, Honest Thief begins to mimic the narrative structure of something like The Fugitive (1993), except Tom is far from innocent and his cockamamie attempt at relinquishing his freedom feels ludicrously inept. Also, Neeson's age calls into question something the script never addresses—deal or no deal, a likely chunk of prison time would be expected (although, this is presented from an oblivious privileged perspective suggesting an elitist ability to mold the law for one's own benefit with the proper representation).
What's worse is how Williams and Steve Allrich pen Annie, a damsel in distress who has little say (who knows, if Tom had approached Annie beforehand, maybe she would have politely suggested Tom keep the money or donate it to charity or just slap his hand and tell him not to rob anymore banks). Of course, she says all the right, unblemished things in what is a wasted role for Katie Walsh, whose comedic chops (Girls Trip, 2017) align her with ladies like Kristen Wiig or a Wendie Malick.
A quartet of notables flesh out the cardboard cutout FBI agents, with Robert Patrick's role too limited to register, whilst Jai Courtney gets saddled with another heartless baddie role and Anthony Ramos (A Star is Born, 2018) as his wishy-washy sidekick who reveals a conscience too late and ends up punished for it. Jeffrey Donovan appears in an equally toothless role as the agent stepping in to track Tom and keep an open mind about his potential corrupt fellow agents. Nothing surprising to see here, including the obligatory third act cat and mouse sequences which find Neeson trouncing everyone miraculously as he bustles around Boston.
★½/☆☆☆☆☆