The Working Class Goes to Heaven: Marcello Retrofits London's Ruminations on Superficial Social Status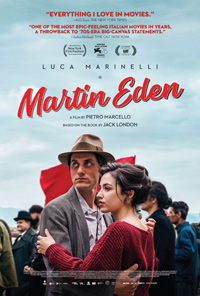 Pietro Marcello brings his unconventional sensibilities to new heights with Martin Eden, transporting Jack London's 1909 Oakland set novel to Naples for his first full-blown theatrical narrative. Heretofore working as a documentarian or in hybrid formats (The Mouth of the Wolf; Lost and Beautiful), it's certainly a curious move in itself, considering the semi-autobiographical novel from London, who is best known in his native US for wilderness adventure novels such as White Fang, The Call of the Wild and The Sea Wolf (all perennially resurrected in America cinema), is among one of the author's best works.
Martin Eden (Luca Marinelli) is an affable sailor who saves Arturo Orsini (Giustiniano Alpi) from what portends to be a vicious beating. Arturo belongs to a respected middle-class family, and when he brings Martin home to meet his parents out of gratitude, the charming young man falls for his sister Elena (Jessica Cressy). A flirtation over Baudelaire leads to his proclamation of wanting to become a writer, with Elena convincing him he needs an education. It's clear he will need both a better understanding of "general culture" and obtain moderate wealth before their union would be considered appropriate by her family. And so, Martin sets off on a writer's journey, penning stories before knowing proper form and experiencing countless rejections while living with his generous sister (Autilia Ranieri) and her uncouth rube of a husband (Marco Leonardi). Leaving them, he finds support from a friendly widow Maria (Carmen Pommella) and a noted writer/editor Russ Brissenden (celebrated theater star Carlo Cecchi). Eventually, Martin comes to despise Elena's world, and when she finally rejects him, he begins to experience significant acclaim, and another troubled romance with a woman from his own "class," Margherita (Denise Sardisco).

While the source text was specific to 1909 Oakland, Marcello's vagueness, while not exactly nebulous, places Eden's storyline somewhere in the first quarter of the 20th century (based on the timeline of Martin and the eventual talk of war, prior to WWI, perhaps). Martin Eden has seen its own share of adaptations, including a couple silent film versions, even a Glenn Ford starrer The Adventures of Martin Eden (1942) and a 1979 television series directed by Marcello's countryman Giacomo Battiato.
Penned by Marcello's collaborator Maurizio Braucci, it's a heady, dialogue heavy examination of philosophical hypotheses on class, economics and political theories. As performed by Luca Marinelli, who took home the Volpi Cup for Best Actor at the Venice Film Festival, his vibrant and impassioned turn goes a long way toward making Martin Eden utterly compelling, even exciting to behold. Employing two cinematographers, Alessandro Abate and Francesco Di Giacomo, also etches an intriguing visual pattern of beautiful, pristine landscapes, intriguing archival nautical footage, and grainy, speckled frames of its characters, often giving them the look of oil-dapped paintings in direct close-up.

There's much to unpack as far as themes and theories, an intelligent mixture of diatribes and cultural critique which may be unleashed as a period piece but unfortunately feels far too advanced to hold attention for casual viewers. Still, Marcello's fiery admonishments of the Orsini's at their own dinner table, wherein a brilliant passage underlines the very critics of socialism are actually the ones administering the regulations which allow its possibility, is presented as a pearls-before-swine event. Even better, a sequence where he's booed by working class union organizers who decry individualism when he points out the individual must be taken into consideration within the collective to avoid a harsher, more rudimentary facsimile of the very hierarchy they're trying to deconstruct, glances across the screen so effortlessly its almost easy to miss how coercive these ideas are presented.
Although effectively a tragic portrait of a man disillusioned by the systems he wishes to participate within, Martin Eden (not unlike Dreiser's Sister Carrie) is oddly a hopeful success story, a sort of grim, cynical version of Good Will Hunting (1997). True, the central romance(s) are more authentic, doomed to failure in the most nihilistic ways, presenting another uncustomary element for romanticized portraits of genius.
Shoehorning London into what plays like Elio Petri's sensibilities in New Wave homage, it's a film all about its central character, with everyone else rotating around his locus, whether he's being despised or lionized. As such, Martin Eden neither plays like an ensemble or even the Kunstlerroman (the development of an artist, a subgenre of the Bildungsroman's development generalized psychological coming of age), and maybe, just maybe, presents the title character as Jack London really intended him to be – a critique on the eventual downfall of the staunch individualist, whose passion on the subject, at least so doggedly, can only end in self-annihilation (and, as thus, adds another fiery layer to Martin's own blind spot in his speech to the workers).
★★★½/☆☆☆☆☆