Reviews
Marshland (La Isla Mínima) | Review
Caught in the Quagmire: Rodriguez's Satisfying Period Neo-Noir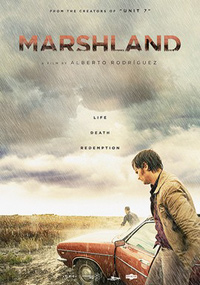 Having swept the 2014 Goya Awards back home (winning ten of its sixteen nominations, including Best Film), Spanish director Alberto Rodriguez's Marshland is a character driven cop thriller with the brooding intensity attributed to the contemporary movement of Nordic Noir. Incorporating specific historical elements into its pulpy tapestry for a bit of extra resonance, Rodriguez and his regular co-scribe Rafael Cobos unveil their central mystery with such painstaking deliberateness it's easy to overlook some of the narrative's generalities.
Set in  rural Spain, just five years after the death of Franco and the fall of his ruthless dictatorship, Rodriguez recalls a nation in transition, introducing an easily fueled binary of good cop vs. bad cop based on the juxtaposing political tenor. As usual, women are relentlessly maligned, even though its dire misogyny transpires off-screen, a typicality more easily forgiven thanks to its 'period.'
In September of 1980, police detectives Pedro (Raul Arevalo) and Juan (Javier Gutierrez) arrive to investigate the disappearance of two teenage girls in the rural South. Pedro is distracted by the thought of his pregnant wife in Madrid and none too pleased to be saddled with Juan, an old-school detective with a tendency for violence. Community members seem unhelpful, claiming the young women, who are sisters, have a certain kind of reputation. Their parents seem equally unconcerned, a resentful father Rodrigo (Antonio de la Torre) overzealous in his assertion they've run away. But their mother Rocio (Nerea Barros) hints at other conflicts, including her daughter's involvement with local playboy Quini (Jesus Castro). Eventually, the mutilated bodies of the young women are discovered, allowing for Pedro and Juan to discover a trail of clues hinting at greater scandals in the quiet community.
The disappearance of two young women and rumors of sex trafficking in the midst of an apathetic community recalls the dynamics of Stieg Larsson's Millennium Trilogy, whereby grizzled heroine Lisabeth Salander is unwittingly swept up in a decade's long missing person's case with similar misogynistic flourishes. But there's no such streak of feminine presence here. Rather, the downplayed narrative feels similar to the tone of Baran bo Odar's 2010 title The Silence while the pseudo-snuff film teasing is reminiscent of Jim Mickle's late 80s set Cold in July (2014), where another similar ring of ruthless murderers are unearthed. But Rodriguez seems less concerned with the 'who' and 'why,' focusing almost exclusively on 'when' via its oddly paired detectives.
Raul Arevalo is of the Serpico model of cop, a new generation prizing honest law enforcement tactics, eager to distance himself from the inhumanity of generations past. Unluckily for him, he's stuck in the Deep South within a community befitting of the film's name, comfortable in the mindset of the recent past. Upon arriving in town, Pedro is repulsed to see a crucifix with Hitler's photo displayed in his room as he hastily shoves it away into a bureau drawer. But attitudes cannot be so easily swept out of sight. DoP Alex Catalan (Iciar Bollain's Even the Rain, 2010) provides multiple bird's eye images, as if snapped from a satellite, conveying the precisely shaped landscap from afar where it seems everything is in its rightful place. But on the ground level, nothing could be further from the truth.
Pedro's conflict with Juan's abusive tendencies tends to feel downplayed, though he curiously hangs back when Juan's scare tactics seem to yield useful results. Often, their dynamic feels very familiar, one of those relationships were an odd friendship transpires leading to begrudging respect not unlike countless examples from popular American fare such as the first season of the series "True Detective." Diligently serious, Marshland's grim tone does attain a certain monotonous rhythm, to the extent its inevitable finale isn't as satisfactory as the journey getting there.
★★★/☆☆☆☆☆