Jungleland [Video Review]
In Like a Lion: Winkler Traces Boxer on the Struggle Bus in Familiar Melodrama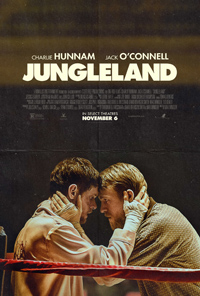 If you're going to San Francisco, there might not be anymore gentle people there, or so seems to be one of many familiar sentiments in Jungleland, the third feature from Max Winkler (son of Henry). An impressive cast of established and upcoming actors should generate an immediate interest in this story of two wayward, down and out brothers forced into indentured servitude on a cross-country trek to what will either be their fortune and glory or their doom. However, a rather routine, paint-by-numbers script robs this treatment of any originality, often revealing significant plot holes in an exercise which also fails to properly convey a sense of time or place.
Performance wise, there's enough to admire in this Ridley Scott executive produced feature, but the necessary care and poignancy we're logically meant to cultivate for its characters feels more like a light, polite suggestion.
Brothers Stanley (Charlie Hunnam) and Lion (Jack O'Connell) are living hand-to-mouth in attempt to make it big on the backs of the latter's skills as a boxer. When Lion loses a match older brother and manager Stanley needed him to win, they're forced to flee the empty house they're squatting in to avoid criminal kingpin Pepper (Johnathan Majors). But Pepper's henchman (Fran Kranz) waylays the brothers, and they're forced into a scheme in which they must travel to San Francisco by car so Lion can enter a bareknuckle boxing contest called Jungleland, a described 'Battle Royale' in which the winner takes home a 100K. Pepper also needs them to transport a young woman, Sky (Jessica Barden), but initially doesn't say why. As skirmishes immediately beset the trio, Stanley learns Sky is meant to be delivered to Pepper's boss Yates (John Cullum), but Lion begins to have feelings for her.

Hunnam bears the weight of the film squarely (and grimly) on his shoulders as the exploitative, arguable ne'er-do-well Stanley. As penned by Theodore Bressman and David Branson Smith (Ingrid Goes West, 2017), he's a character who feels straight out of those complex protagonist proliferating 1970s New American cinema, a likeable ruffian who, for the life of him, just can't seem to make the right decision.
The thrust of the narrative bears resemblance to items like Cinderella Liberty (1973) in its impossible central romantic inclinations, but more often The Last Detail (1973), in which Navy men Jack Nicholson and Otis Young transport Randy Quaid to serve a prison sentence while they're eventually led to question their own allegiance and integrity. But the eloquence of Hal Ashby isn't captured here, especially in scenes which are simply illogical (such as a trip to Sky's mother and stepfather to borrow money).
O'Connell, on the other hand, feels somewhat wasted in the less developed role as a boxer whose touted talents aren't necessarily as surefire as Stanley believes, though this of course bears similarities to 2010's The Fighter, at least with the brotherly parameters. But these details assist in allowing Jungleland to feel like a strange parallel universe, playing like a 1990s wasteland until it confirms not only is this in the 2010s, but Hunnam's Stanley is supposedly in his twenties.
Two other castmates worthy of note are Jonathan Majors from The Last Black Man in San Francisco (2019), who has little to do and whose character could have used a bit more screen time. More sprightly is Jessica Barden (who gives a breakout performance in this year's Pink Skies Ahead), a melancholy Maggie Gyllenhaal presence whose trauma and secrets should have been better attenuated (eventually, she's merely a dramatic catalyst, a less sensational device than Juliette Lewis in The Way of the Gun, 2000). And then, there's John Cullum of "Northern Exposure" fame as the big baddie Yates (looking a bit like a tweedy Roger Corman).
By the time Bruce Springsteen's "Dream, Baby, Dream" commands our tear ducts to action, you've likely already predicted exactly how this will unfold. Shot by Damian Garcia (Gueros; Museo), it's a road movie of an unseemly American reality, at least aesthetically fitting in its sordid backrooms and lonely fluorescent-lit arenas of alienation. If only it could have all coalesced into a portrait wherein the intended energy was reflected through its story (think 2015's Mississippi Grind, a loose remake of Altman's California Split).
★★½/☆☆☆☆☆