Not Without My Son: Weinstein Crafts Tender, Orthodox Familial Drama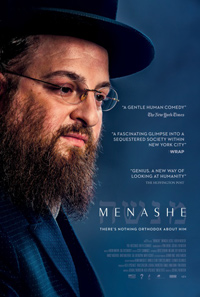 Graduating from documentary filmmaking to narrative cinema with Menashe, director Joshua Z. Weinstein examines universal themes amongst the obscurely portrayed community of Brooklyn's ultra-Orthodox Jewish community. Settling on a medium which plays more like a hybrid exercise of day-to-day struggles following a death in the family (and the subsequent traditions dictating how to properly move on), this sensibly directed, melancholic little film prizes sincerity instead of overblown melodrama.
A relatable emotional core, despite the specifics of its community (not to mention it's the first film almost entirely in Yiddish from the past seventy years of cinema) enhances what often feels like spontaneous moments between a social pariah and the preadolescent son he is struggling to retain custody of despite the dictates of his ultra-conservative religious community.
Based loosely on the life of its lead actor, Menashe (Menashe Lusting) is faced with making a tough decision. His wife having passed away some time prior, Menashe must marry again following the period of mourning or else risk having his son removed to live with his brother Eizik (Yoel Weisshaus) and his family. According to Hasidic law, a woman/mother figure must be in the house in order for him to retain custody. Still mourning the passing of his wife, but desperate keep his son Rieven (Ruben Niborski), Menashe feebly attempts to court, but is more embroiled in intense interactions with Eizik, as his reluctance (along with taking work at a kosher supermarket to make ends meet) has brought embarrassment to the family.
Eternally an outsider, Menashe's sloppy appearance and overall lack of attention to detail have long made him a vulnerable target. But thanks to a kindly rabbi (Meyer Schwartz), Menashe has been allowed to keep Rieven with him until the memorial service for his wife, after which, his son will be removed.
There couldn't be a less glitzy depiction of a community usually hyperbolized and exaggerated for its reserved exoticism than what Weinstein accomplishes in Menashe, which also shares the same name with lead Menashe Lustig, who makes his film debut here. In fact, most popular depictions of Hasidic Jews tend to focus on women, as evidenced by questionable casting featuring actresses like Renee Zellweger or Melanie Griffith. Recently, Vanessa Paradis donned the requisite trappings as a supporting role in John Turturro's Fading Gigolo (2014).
Solemnly frustrated, Lustig (a known web comedian) hits all the right notes as a befuddled father castigated by his family members for his lack of attention to detail and reluctance to marry a second wife. With his opinions about how to raise his son entirely negated by his showboating, grandiose brother, Menashe struggles to maintain a sense of dignity and self-respect in the eyes of his son, who has begun to view his father as dubiously as the rest of their community. Most of these sequences have a potent, underlying emotional nerve to them, such as when Rieven calls his uncle following a boisterous display from Menashe at a gathering, only to change his mind on their stroll home.
The specific parameters of Menashe's predicament invade nearly every frame of the film, however, as his refusal to marry a second woman means not only is Rieven not allowed to live with him, but he may also be removed from school. This places awkward stress on the women Menashe haphazardly courts as potential step-mothers for his son.
The success of the film is mostly thanks to a winning dynamic between Lustig and Ruben Niborski. The dramatic crux leading up to the memorial service of his deceased wife Leah (whose tragedy is related in an off-the-cuff conversation between Menashe and two colleagues at the supermarket), instills an intense glint of anxiety, which remains lodged in the side of Menashe until this precipitous moment arrives.
Passing without the sort of fireworks audiences are usually used to, Weinstein ends his efficiently paced film smoothly, with an open ended visual sequence which suggests sacrifice not only for the well-being of his son, and also, perhaps more morbidly, the rigorous struggle of relenting to the powers that be.
★★★/☆☆☆☆☆