Sugar Pop Electric: Almereyda Gets Inventive with Curio Biopic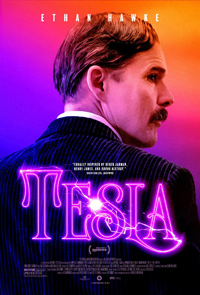 If one is familiar with the filmography of Michael Almereyda, one should already know when approaching his latest film Tesla the last thing they're going to experience is a comprehensive biopic on the famous inventor and chemical engineer. But what one does experience is another interesting, idiosyncratic offering from a singularly original auteur, reunited once more with his muse Ethan Hawke as the Serbian-American innovator (alas, no attempts at re-creating what should have been something like a Croatian accent are in evidence).
Taking place around the turn of the century, the focus here is on Tesla's reimagined interactions while working for Thomas Edison in 1880s New York City, and somewhat vaguely conveying his contributions to electrical power and light without ever really having benefitted economically from his discoveries (at least as compared to his colleagues and peers of this period).
Nikola Tesla (Hawke) both works for and is at odds with Thomas Edison (Kyle MacLachlan) in 1884. Though both men experienced significant familial tragedies as children and share the same interests, they were at odds about Tesla's development of alternating current, which eventually was used in the invention of the electric chair, and then, made possible the historic and influential Chicago World Fair in 1893. But little is known of Tesla's personal attributes, as we're told by narrator Anne Morgan (Eve Hewson), daughter of J.P. Morgan, the man who financed Tesla's projects for wireless transmission. Eventually, his meaningful contributions would be eclipsed by the reputations of his wealthier counterparts, even as he outlived them all.
As lensed by Sean Price Williams (Good Time, 2017), the mutating textures and muted, eventually vibrant neon casts more of a futuristic pallor on Tesla, which sometimes, ever so briefly, feels like its actors are playing dress-up in a droll skit. Hawke (who's busier than ever, with recent releases featuring him Kore-eda's The Truth and RZA's Cut Throat City, the latter releasing the same weekend), remains somewhat of an inscrutable figure, and we're told more about his contributions than shown (the exception being a crackling sequence of electrical experimentation which channels Whale's Frankenstein).
It is yet another interesting pairing of director and star, who previously collaborated on two contemporized adaptations of Shakespeare, including the novel Hamlet (2000) and the misfire Cymbeline (2014). The most pronounced anachronisms are in its narration, with Eve Hewson, playing his thwarted love interest, breaking the fourth wall and explaining Tesla's ensuing legacy in contemporary terms by comparing Google search results with the information readily available on Edison and George Westinghouse (a likeable Jim Gaffigan). As she so succinctly states, beyond what little info and pictures are available, "Things get murky." And then some doses of electro synth music and Hawke doing a karaoke cover of Tears for Fears help solidify this exercise as more feeling than truth.
Kyle MacLachlan is in droll form as the pretentious Edison, a man at odds with Tesla's championing of alternating vs. direct current. A reimagined scuffle involving ice-cream cones is a nice touch, while MacLachlan's presence continues to align Almereyda's with Lynchian vibes (who produced his early cult favorite Nadja in 1994).
More pronouncedly offbeat than his 2015 portrait of Stanley Milgram in Experimenter, the semi-comedic tone and visual presentation also recalls what Terence Davies did for Emily Dickinson in the stellar A Quiet Passion in 2016. A host of usual suspects are in tow, including an entertaining sequence with James Urbaniak, while Lois Smith (who shines brightly in Almereyda's beautiful Marjorie Prime, 2017) surfaces at one point, and even Ian Lithgow (who sounds exactly like his father). "Thinking is more interesting than knowing," is a partial phrase stated at one point in Tesla—and it's exactly the point of Almereyda's film, as thinking about Nikola Tesla might be more interesting than actually knowing about him as a person.
★★★½/☆☆☆☆☆