Yolo in NOLA: RZA Battles Corruption Post-Katrina in Stifled Neo-Noir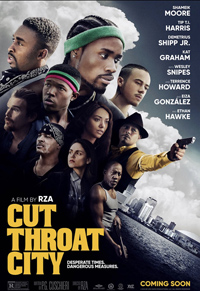 The multi-faceted artist RZA returns to the director's seat for the third time with Cut Throat City, a long-gestating project which appears to have been a labor of love for its creators, albeit an eventually compromised vision of the systemic racism, injustice and corruption revealed in the aftermath of post-Katrina New Orleans.
A decidedly meaningful historical reference point rife with narrative possibilities, both genre and otherwise, was scripted by P.G. Cuschieri in what stands as his first produced screenplay, originally announced back in 2014 as a project championed by the formidable Reginald Hudlin (who no longer shows up amongst the producer credits).
Six years later and sporting a dizzying number of notable cast members, RZA's brief moments of ingenuity in his latest filmmaking endeavor are eventually and unfortunately swallowed by convoluted, intersecting storylines jockeying for prominence, which are further hobbled by some nonsensical, illogical details surrounding several of its key sequences.
In the aftermath of Hurricane Katrina, four boyhood friends struggle to make ends meet in the ninth ward of New Orleans. Blink (Shameik Moore), who recently married Damyra (Kat Graham), dreams of being in illustrator. When his dreams are destroyed after a crushing job interview and his family is denied FEMA relief, Blink consults with Damyra's nefarious relative Cousin Bass (T.I.), a move seconded by his three best friends, Miracle (Demetrius Shipp Jr.), JR (Keann Johnson) and Andre (Denzel Whitaker). Cousin Bass runs the underbelly of the ninth ward and assigns Blink and his friends to rob a casino seeing as local authorities are distracted by post-Katrina fallout. The heist doesn't quite go as planned and the newspapers publish a larger taking than what the young men actually were able to obtain. But Cousin Bass demands they deliver the amount he believes them to have, or else. Without anywhere to turn, Blink turns to the nefarious The Saint (Terrence Howard), the only potential figure who can assist him with combatting Cousin Bass. But at the same time, a dogged detective (Eiza Gonzalez) and a corrupt councilman (Ethan Hawke) want to know who pulled the heist, as well.

Consistently referencing The Wizard of Oz (1939), nearly to default and distraction, one wishes these fanciful homages could have been more skillfully streamlined into the narrative, for there's much interest to be gleaned from the glossy drabness of Dorothy's rural Kansas in comparison to the devastation of New Orleans' ninth ward when somehow, there's an insistent refrain that 'there's no place like home' despite evidence of otherwise in both places and films.
But the happenings of Cut Throat City are hardly a metaphorical dream, and RZA kicks everything off with an opener wherein the four jovial friends discuss the problematics of Tarantino's penchant for racial epithets as a white filmmaker (it should be noted RZA and Tarantino are also friendly collaborators) in the film Reservoir Dogs (1992), itself a film which opens with an unlikely but entertaining group of characters discussing the unexpected, albeit the merits of Madonna's discography.
Both Shameik Moore (the highlight and headliner of Rick Famuyiwa's 2015 Dope) and Demetrius Shipp Jr. (who portrayed Tupac Shakur in All Eyez on Me, 2017) are standouts of RZA's initial quartet, while some of the more notable cast members waffle between deliriously on-the-nose dialogue.
An early sequence with Moore applying for position as an illustrator at a local publication finds him belittled by Joel David Moore in a stilted exchange, while T.I., initially outfitted with some of the film's more persuasive exchanges melding sinister tones and significant subtexts, quickly becomes a caricature.
Cousin Bass, for whatever reason, has hypopigmentation, which looks distractingly fake, and then subjects minions who cross him to a caged raccoon who chews on their genitals for punishment—these are merely elements exploitation if not positioned correctly in a fittingly gritty mise en scene, but the superficiality of the script, and a fantastically paltry production design (featuring questionable lighting, and cinematographic zaniness which assist in disrupting tones, often within the same scene), aligns Cut Throat City with camp in these excessive sequences.
There are, of course, some interesting elements. Kat Graham as Blink's wife manages to be compelling even as she's lost in the swirl of the story. Rob Morgan is consummately entertaining as an undercover cop (who unfortunately shares a lot of screen time with the miscast Eiza Gonzalez as a 'hardened' detective) and Wesley Snipes as Moore's father is a highlight. Even Isaiah Washington as a chain-smoking veterinarian showcases his screen presence. But they're peripheral elements in a narrative which turns to Ethan Hawkes as a corrupt councilman and Terrence Howard as an enigmatic scion of the city's underbelly, who seem a bit silly.
If RZA's 2012 debut The Man with the Iron Fists suffered from some of his predilections (not unlike Tarantino) with elements which detract rather than enhance, and his 2017 sophomore film Love Beats Rhymes is woefully underrated considering its performances and production quality, both are a far cry from the woebegone feeling of Cut Throat City, a film which feels overbaked and in desperate need of editing.
★/☆☆☆☆☆