Money Monsters: July Returns with Poignant Puzzle of Curious Criminals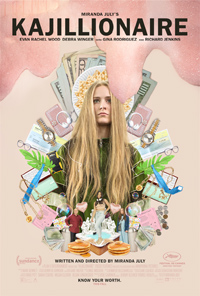 Con artists come in all shapes and sizes, but nowhere are they as decidedly low yield in their grift game than the trio of shambolic criminals in Kajillionaire, the long awaited third film from the singular artist Miranda July.
While best remembered for her Sundance winning debut Me and You and Everyone We Know back in 2005, July's particularly offbeat visionary style is easily confused with a legion of quirky misfits or twee American indie exercises. However, as her latest, most complex narrative reminds us, she's an elevated storyteller with this unabashed exercise sporting her own specific aesthetic, defying the usual established formulas of characterization in another portrait of the loopy, irreverent grace presented in her unique worldview.
Theresa (Debra Winger) and Robert (Richard Jenkins) are con artists who have perfected their own art of the scam, training their 26-year-old daughter Old Dolio (Evan Rachel Wood) in the process. Living together in an abandoned office owned by Stovik (Mark Ivanir), who runs the factory Bubbles, Inc. next door, which forces the family to engage in the daily activity of collecting all the suds which spill over the wall like clockwork, it seems an exhausting battle with little payoff. Figuring out how to pilfer packages out of post office boxes, they wend their way throughout Los Angeles hoping to score rewards for returning their stolen items to their rightful recipients. Somewhere in this process, Old Dolio is paid by a woman court-ordered to take parenting classes, where she has an epiphany about the dysfunction of her own upbringing. When Stovik gives her parents two weeks to pay up on three months of past due rent, she concocts her own scam to get the money, which brings them into contact with the beautiful and bored Melanie (Gina Rodriguez), who excitedly joins them on their grifting spree.
It's been nine years since July's sophomore film The Future (2011), the story of a crumbling relationship narrated through the perspective of a continually kneading, cartoonish-toned cat. Irreverent and bizarre, it was also more insular and contained than her debut, if equally in keeping with July's brand. The jagged edged pieces of this latest puzzle eventually fall into a meaningful cohesion, an exercise which feels akin to watching clashing colors bleed together and even out into a complementary vision.
Evan Rachel Wood has the tough job of being the narrative straight man, speaking at a lower register, dressed like she's drowning in Avril Lavigne's early 2000s wardrobe and just beginning to realize her nagging need for intimacy thanks to the emotional and physical neglect of her parents. Wood has often excelled at wild child roles, pseudo-feral young women who are either troubled souls or magical vagabonds. Her iteration of Old Dolio Dyne, a fantastically named character if there ever was one, stands out from several comparable characters, from Thirteen to Whatever Works to Barefoot. As her parents, the craggy ex-hippies personified by Debra Winger and Richard Jenkins, who shuffle about like anti-capitalist zombies, aren't as strikingly defined, but the family dynamic is reminiscent of something like Running on Empty (1988), embodying the pronounced consequences of parents living outside the realm of the law, and how their choices eventually warp their children.
But the real magic of Kajillionaire is an addictively poignant performance from Gina Rodriguez, bored with her own life and reflecting another side of the same coin as Old Dolio's parental relationship, her own mother relating to her daughter only through objects and commodities. Her zealous scheming with Theresa and Robert is where July really mutates the film's odd quirky flavor into a meaningful exercise about authenticity, how a rejection of going through the expected motions can have the same potentially alienating effect.
Somehow, between constant earthquakes and oozing bubbles, July's film becomes a tender romance, and segues through a formidably meta-sequence where a dying mark embraces what these grifters have to offer, the semblance of family as they rifle through his belongings. Simultaneously, the false parameters are the only way the Dyne clan experiences the pleasantry of familial camaraderie. While its first frames promise a quirky portrait of zany, unlikeable people living on the fringes, their madness (accompanied by a pronounced score by Emile Mosseri) finds its method and its pieces align into a unique portrait of Los Angeles.
★★★★/☆☆☆☆☆