Stuck in Neutral: Cohn Cooks Up Sensitive (and Hilarious) Fast Food Tragedy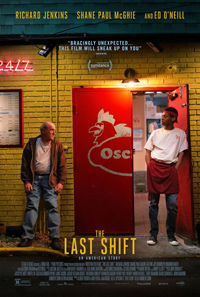 Andrew Cohn delivers a heart-wrenching ode to the working class, missed connections and guilt.  In a superb of-the-moment character study, Richard Jenkins is perfect as longtime fast-food worker Stanley, the quintessential put-upon everyman (even his character's laugh sounds desperate); promising newcomer Shane Paul McGhie plays Jevon, an ex-con father and new employee whom Stanley has to train. For those expecting a cheerful odd couple dramedy, think again:  while The Last Shift dishes plenty of unexpected laughter, it's no escapist fantasy; instead, Cohn (a documentary filmmaker) has the guts to examine economic and racial bias, contradictions and chaos included.
Stanley takes pride in his lowly graveyard shift at Oscar's Chicken and Fish, but feels undermined by his manager, Chaz (Da'Vine Joy Randolph, also great in Dolemite Is My Name). Jevon dreams of being a writer, but has a knack for finding trouble, losing jobs and fighting with his baby mama, Sidney (Birgundi Baker). Both leads are caught in cycles of systemic injustice: class, race, age, poverty—plus a well of regrets. Both of them have rigid worldviews—but despite some common ground, their relationship is never going to go Green Book. What keeps them at odds? Stanley refuses to blame white privilege; Jevon likes having someone to blame. But they each have their own share of wisdom … and that's what keeps them from becoming clichés.

This film is about potential, and the countless small struggles that get in the way. Dragged down by self-pity, these two characters are trapped on the cusp of self-actualization. Yes, their lives are tragic—even Mark Orton's score wallows in melancholy trombones—but at least they find ways to laugh at themselves, and we laugh with them. A lot. For that reason alone, hope is on the horizon.
This delicate balance is what makes The Last Shift sing. With both grace and precision, writer/director Cohn explores interior lives and reveals painful doubts; Stanley and Jevon's humanity becomes a prism for much bigger ideas. The film's highs (and lows) give viewers room to reflect on things unsaid, to address matters weighing on our collective conscience. But this is more about questions than answers. The world is flawed, and The Last Shift is a breath of fresh wintry air: real-world melancholy meets classic indie charm, minus mawkish contrivance.
Reviewed on January 27th at the 2020 Sundance Film Festival – Premieres section. 90 Minutes.
★★★★/☆☆☆☆☆