La femme de mon frère | 2019 Cannes Film Festival Review
Is There a Doctorate in the House? Chokri Skids and Skates without Moving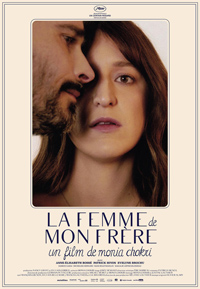 Moving from her award-winning short Quelqu'un d'extraordinaire (2013) debut which dealt with separation necessity and the dismantling of a sisterhood, for her feature debut, Monia Chokri focuses on separation anxiety with the malaise that it encompasses and that it imposes onto others. A Quebecois Francis Ha type dramedy that is both wry and dry while sometimes fleeting in its ideas, La femme de mon frère (international title: A Brother's Love) counts as a likeable ode to privileged and an awesome showcase for the word and thought-per-minute rambling protagonist by Anne-Élisabeth Bossé but unfortunately comes across as an over-packed suitcase of thoughts and thoughtlessness.
A film narrative that spans the seasons (harsh Canadian winters make for a great insular motif), Sophia (Bossé) falls out of academia and toasts to her mea culpa dealings with the very near future. Urban milieu and white privilege don't stand a chance against mounting students debts but saviour in the shape of articulate older brother Karim (Patrick Hivon) and a little mac and cheese offer reprieve from reality.
Amped up by philosophical debates, message tee shirts and grating family dinners (Sasson Gabai of The Band's Visit fame plays the father in the French tongue), a small world becomes even smaller when her brother complicates matters with a former hook-up (Évelyne Brochu). This becomes more about aborted thoughts (comically abortion is the link that binds), and recognizing the trigger points in a fusional brother-sister relationship rather than, the wedge persona that creates conflict among the sibling dynamic. Dissertation anxiety and climate change concerns are replaced by grabbing the future by the tail – in baby step, hangover form.
Chokri, who got her start in film with supporting parts in Xavier Dolan's early filmography accesses the Millennials don't want to grow up sentiment by bringing out the best in her former co-star and lead actress. A second family gathering rendezvous (an overly tonally jarring sequence) with the parents is a buzz kill overstays its welcome — as so for a comedic improvised blind date suggesting that the laughs just aren't as on point as her breakout short. Despite the character's slacker frame of mind, Bossé still manages to add a degree of charisma to the unlikable yarn ball of a character —  exercising multiple emotionally tethered muscles.
Packaged with what one film's kinship to Quebecois cinema of the past (there is some street scenes that recall of certain 60's to 70's auteurs), and an Euro sensibility (a Rohmer-like rowboat sequence with biographical implications) — this is fused with a soundtrack that is kitsch and worldly and that circumvents around the wrath of this setting. While Chorki has a refined ear for music and strong notions for the look (La femme de mon frère contains an overt color coding the gender divide in warm baby blues and pink) Chokri's dissertation contains too many footnotes as sequences comes across as either undercooked, too wound up or charmingly and dramatically on-point.
Reviewed on May 16th at the 2019 Cannes Film Festival – Un Certain Regard. 117 Minutes
★★½/☆☆☆☆☆