AEIOU – A Quick Alphabet of Love | 2022 Berlin International Film Festival Review
The Consonants of Love: Krebitz Gets Caught in an Odd Romance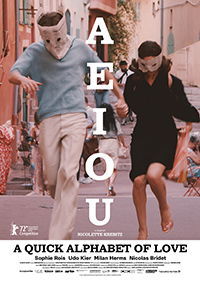 "It all begins with A," so begins the omniscient third-person narration of Anna, an actress in her sixties played by the captivating Sophie Rois. It suggests an obvious pattern of themes to come in the ungainly titled AEIOU – A Quick Alphabet of Love (AEIOU — Das schnelle alphabet der liebe), the fourth feature from director Nicolette Krebitz, who seems to revel in characters forced to reinvent themselves through unexpected romantic connections. To her credit, Krebitz ends up delivering something completely unpredictable, though it's a film clogged with choices which range from magical to agonizingly unpleasant. But once it sails beyond some questionable choices in its set-up, a transportive chemistry blooms between the two leads as the film zooms into territory so unbelievable it could only be described as a fairy tale. While all the daring choices sometimes cancel each other out, it's an enjoyable film in its own rugged, desperate way, giving celebrated German stage and film actor Sophie Rois one of her meatiest roles in over a decade.
Anna (Rois) is a film actress whose career is on the wane. She lives in a Berlin apartment building with her landlord (Udo Kier) serving as her closest friend and confidante, which comes in handy regarding her dwindling cash flow. After she's groped by a colleague and mugged in the span of a single day, a brief respite of introspection reunites Anne with her assailant when she agrees to work as a voice coach with Adrian (Milan Herms), a troubled student with a speech impediment playing the lead in a school play. Anna and Adrian avoid directly addressing the mugging, but he responds warmly to her kindness and soon feelings begin to develop between them. A romantic, crime-laden vacation in Nice results in a compromising situation.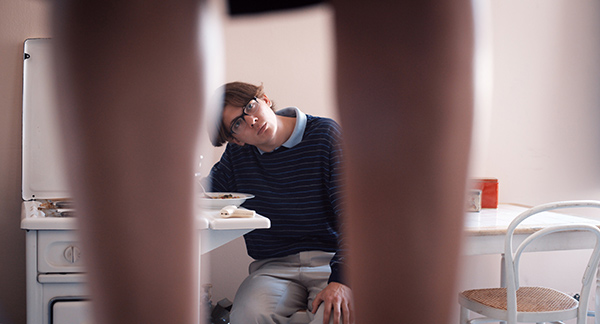 Like her role as Hanna in Tom Tykwer's 3 (2010), wherein a married couple invites another man into their marriage after discovering they've both been having an extramarital affair with him, Rois' Anna Moth is an equally vibrant, liberating personality. While there will certainly be preachers from the moral pulpit decrying the inappropriateness of a sexual relationship between a sixty-year-old woman and a seventeen-year-old high school student, it's important to keep in mind how enjoying fictional characters doesn't translate to condoning their behavior (which is why something like A E I O U could not be made in this kind of playful, human tone in American cinema today). It's a pity if these details will dominate conversations of the film because Krebitz succeeds in delivering something in the vein of Harold & Maude (1971), at least to the degree of conjuring poignancy between two people who, on paper, beyond legality and morals, would likely not be destined for any real connection.

And while its final act certainly makes up for distractions in the build-up, there are moments which veer in the other direction, such as an odd slow-motion sequence set to "Here Comes the Sun," meant to break the template of their connection but much too corny to work effectively. Likewise, another sequence where Adrian cleanses the apartment of Anna's dead husband's lurking spirit. As Rois' counterpart, Milan Herms' Adrian also feels a bit ineptly conceived, segueing from sullen recreant to confident lothario in a mere matter of weeks. However, Rois is so commanding, it tends to smooth over these dubious gestures, at least enough to become transportive.
The third-person narration, once so superfluous, ends up lending Anna Moth a sort of Muriel Spark dimension. Udo Kier is used sparingly as a bright accent, his relationship to Anna as a landlord/best friend evident more so in the energy shared by the actors than in the script. It's a film demanding you give into the scenario, and it's truly worthy of the opportunity, especially to anyone who's ever been sanctioned by society concerning who it's appropriate for them to love.
Reviewed on February 13th at the 2022 Berlin International Film Festival – Competition Section. 104 mins.
★★★/☆☆☆☆☆