What is Love? Kobiela & Welchman Paint a Vivid Van Gogh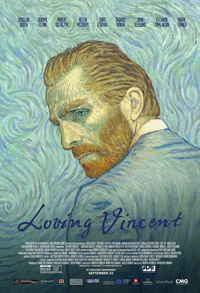 His expressive brush at capturing the world around him still affects worldwide art and culture over a century after his descent into a savagely depressed madness, culminating in his death at 37 and in their own way, Dorota Kobiela and Hugh Welchman (Peter & the Wolf, 2006) have done what no other filmmaker or animator has attempted to do when depicting the life and times of this seminal artist: create every frame as its own painting in this madcap friendly sensory overload piece. While this quasi biopic adheres to a less adventurous, more conventional storytelling formula template when reproducing a life's story in the style of the creator, Loving Vincent is alive cinema, loaded in rich textures and vivid emotions that it was as if the artist had decided to paint an epilogue to his own story.
Even outside the confines of art, the name and merit of Vincent Van Gogh is so widely praised that it is hard to believe the modern world could have existed before he put paint to canvas. Each frame in Loving Vincent is compact filled with bittersweet symphony of astounding visuals and harrowing perspectives into the complicated final days of the tormented artist. The story is relayed through a fictional murder-mystery plot by way of Armand Roulin (Douglas Booth), one of the real-life subjects of Van Gogh's paintings, trying to deliver one of Vincent's letters to his surviving family. A year after Vincent's (Robert Gulaczyk) highly publicized suicide, Roulin wants nothing to do with the purported madman who has caused his family considerable grief by their acquaintance. By insistence of his father Joseph (Chris O'Dowd), he takes a journey to deliver Vincent's last correspondence which thrusts him into a world of gossip, hearsay, lies and maybe a little truth to not only discover to whom to deliver the letter, but to discover what had happened and why. Through Roulin interviewing locals (visualized though charcoaled flashbacks) and chasing leads, the story and visuals are overflowing with references to Van Gogh's most famous paintings and to similar-themed films such as Everything is Illuminated and Waking Life.
The artistic direction and attention to detail is absolutely astounding. Capturing realistic movement, space and the elapsing of time while simultaneously providing a vividly idiosyncratic (yet familiar) visual spectacle worthy of any museum. Crafted in a classical mystery structure that is most heavily reminiscent of Jerry Thompson's search in Citizen Kane, the filmmakers have made the material easily accessible for their visual experiment and achieve an engaging and sporadically tear-jerking piece choosing a simplified narrative for a multitude of different perspectives taken or invented to fully explore its subject. As a result, the film easily suspends disbelief over any particular dramatization, strengthening the powerfully subtle performances, given especially by Booth, Gulaczyk, Eleanor Tomlinson (Adeline Ravoux) and Helen McCrory (Louise Chevalier).
Though, as a narrative work, the film is almost welcomely standard in its execution, it manages to overcome those shortfalls with a visceral visual experience. Over a hundred artists from around the world poured hundreds of hours into painstakingly rotoscoping in oils to bring the incredibly bittersweet end of Van Gogh's existence to life. Loving Vincent is a gripping and enigmatic piece full of the nuanced beauty and humbleness in which Vincent Van Gogh can be appreciated as human as well as art.
★★★★½/☆☆☆☆☆