Odd Man Out: Delayed Koontz Adaptation a Tone Deaf Misfire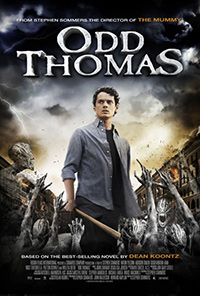 Filmed way back in 2011 and then delayed indefinitely in 2013 due to legal actions woes in relation to marketing and advertising funds, Stephen Sommers' adaptation of Dean Koontz's novel, Odd Thomas, at long last arrives after notable anticipation. The first of a series of novels, the success of the film will dictate future adaptations, but the results, especially after such a long gestational period, are superbly woeful. Questionable casting and a gruesomely synthetic screenplay that awkwardly veers from broad comedy to schmoozy romance to demonic hunting super hero scenario gives the film an unappealing adolescent quality that only gets worse as the film drags on and on.
Odd Thomas (Anton Yelchin), resides in the small California desert town, Pico Mundo. Having somewhat of a strange reputation due to his name, thus coined by his mother who now resides in a sanitarium because of her very public declarations about possessing special abilities, Odd admits to us via overabundant omniscient narration that he inherited these same abilities—not only can he see dead people but he has the means to do something about it. Chasing down perpetrators after being led to them by the spirits of their deceased victims, Odd has trained himself in hand to hand combat and luckily has the confidence of the police Chief Wyatt Porter (Willem Dafoe), who utilizes, privately, Odd's special talents.
By day, Odd is a short order cook and is in a very committed relationship with girlfriend/sidekick/secretary figure Stormy Llewellyn (Addison Timlin), who is the manager at the ice cream shop at the mall. But not only can Odd see dead people, he can see malevolent spirit creatures, coined bodachs, that no one else can see, known to gather around humans about to die or doom about to transpire, creatures that represent a prescient aura. And lately, Odd has begun to see a ton of said creatures, seemingly collecting around a strange looking man Odd coins Fungus Bob (Shuler Hensley). Soon Odd finds himself in the middle of what's supposed to be an epic battle between good and evil.
While Koontz's Odd Thomas character is supposed to be about twenty years old, and Yelchin, at the time, more or less feels appropriate for that age range, the resulting film adaptation feels like an over achieving young adult novel dressed up for a more mature audience. This should find many with higher expectations feeling duped. Especially grating are most of the scenes shared by Yelchin and Timlin, engaged in saccharine doused mimicry of John Hughes as they spew out pages of cutesy garbage amidst what we're led to believe is some kind of impending doom.
While 2014 will undoubtedly be a landmark year for Gugu Mbatha-Raw, audiences will hopefully overlook her minor stint here as Yelchin's gypsy-visiting, dream foretelling, single mother of two. And as far as the legitimizing presence of Willem Dafoe goes, the ever interesting performer doesn't have much to do beyond aiding the obnoxious protagonist.
Sommers, best known as the director of those Brendan Fraser headlining Mummy films, last helmed the problematic G.I. Joe: The Rise of Cobra (2009), a debacle that may have spurred him once more into a more independently minded feature. However, though mastering some intriguing visuals, overly dependent on those pesky bodachs, there's nothing else by way of filmic artistry present in the foolish world of Odd Thomas, a film that bungles the essence of romantic relationships, comedic timing, and preternatural thrills.
★ / ☆☆☆☆☆