On the Waterfront: Cooke's Tender Adaptation of Sexual Aversion in 1960s England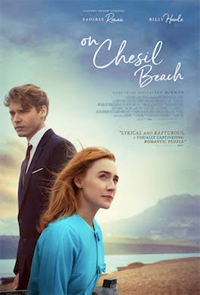 A couple of newly weds hit an irresolvable and unpleasant barrier during their awkward honeymoon dinner in On Chesil Beach, adapted for the screen by Ian McEwan from his critically acclaimed novella. Dominic Cooke, who makes his feature film debut following an illustrious career in theater, directs a talented troupe of actors that succeed in portraying the heartbreaking, sudden dissolution of a marriage once faced with a real and unprecedented challenge. Set in the early 1960s at a grim seaside hotel, the film frequently revisits the couple's past relationship, and through flashbacks excavates the foundations of their infatuation for one another, which slowly disintegrates into a forlorn inevitability.
Following a romantic walk on the beach, Florence Pontig (Saoirse Ronan) and Edward Mayhew (Billy Howle) snuggle down to their honeymoon hotel for an evening dinner. But their uneasy yet intimate cozying is interrupted by two bellboys, who serve the celebratory meal in such an intrusive manner as to exacerbate the psychological pressures involved in any couple's first night together. Despite overcoming this minor obstacle, both Florence and Edward retain an overwhelming physical tension: the young man maladroit in his sexual approach to the woman, who is in turn overly reticent and apprehensive about the whole affair.
The inexplicable mental strain on both sides is eventually unraveled with a series of flashbacks recounting the couple's falling in love some time back, when they had just finished their studies. Florence, daughter of a wealthy Oxford businessman (Samuel West), is a talented and coy violinist looking to put together a world-class quartet ambitious enough to perform classical music at its highest stages. Edward, in a somewhat modest contrast, is a young man simply wanting to communicate the fact that he received a first for history degree. Such humble and innocent intention is the spark that ignites their love for each other, the kind of love that feels deep and genuine, up until a moment that it hits an unsurpassable rock: that Florence is revolted and disgusted even by the prospect of sex.
The film zigzags between the calamity in the honeymoon suite and the couple's flowering relationship, along the way gently mocking the beguiling customs that characterized English life circa 1960s, with Florence's mother Violent (Emily Watson), a class-obsessed Oxford mistress taking center stage as representative of that old guard. Edward's family, on the other hand, holds a more tragic reality as his mother Marjorie (Anne-Marie Duff) suffers from irreparable brain damage following a terrible train accident. But such inconveniences fuel the couple's attraction to each other, and especially since Florence begins to take a fuller part in Edward's domestic life, establishing a sincere bond with his mother as well as twin sisters.
Watching On Chesil Beach is an uneasy, at times embarrassing experience. The revelation that these youngsters were thrown into marriage as virgins – as routine as it was in England those days, unimaginable today – is painful. The unique historical setting is evoked in every possible production component with scrupulous detail, from the pale, cloudy color palettes of its English décor to the rebellious atmosphere instigated by the Campaign for Nuclear Disarmament, which sets the circumstances for Florence and Edward's very first meeting. And yet as visual as it is, the film nevertheless rests on emotionally rich individual performances, with Ronan and Duff shining as women suffering from completely different ailments.
Ultimately a film about a generation growing up with sexual repression, On Chesil Beach provides a window to a recent past, so close in collective experience, and yet so far away from contemporary standards. As such, in certain parts, the film feels too overwrought and mechanic in portraying sex as a taboo – perhaps even incomprehensible to today's audiences in the ways in which both Florence and Edward behave to each other. As an adaptation, however, it thrives in capturing the all-too-bleak Englishness and naïveté of McEwan's sad, timeless characters.
Reviewed on Sunday 15th October at the 2017 BFI London Film Festival. 105mins
★★★/☆☆☆☆☆